2021 ASP Virtual Awards Gala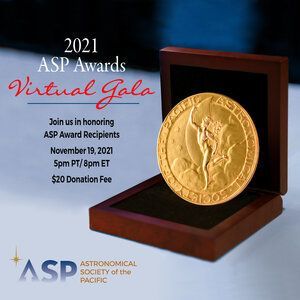 You are invited!
Please join us in celebrating the 2021 ASP Annual Award Recipients at our first Virtual Gala celebration. Presented via a Zoom Webinar, the presentation will feature each Awardee including special talks by each. Your ticket purchase is a donation in support of the work and mission of the ASP.
If you wish to purchase a ticket for others, you will need to purchase them individually for each viewer using their own email as the zoom link registration is unique to each purchase/email.
Visit our Awards page link below to learn more about the ASP Awards, its history, and a complete listing of the various awards and recipients.
Bruce Elmegreen – Catherine Wolfe Bruce Gold Medal
Gudmundur Kari Stefansson – 2020 Robert J. Trumpler Award
Jane Huang – 2021 Robert J. Trumpler Award
Lars Lindberg Christensen – Klumpke-Roberts Award
Christine Hirst Bernhardt – Thomas J. Brennan Award
Your receipt for this ticket will include directions to Register for your unique Zoom link for the November 19th event.