Actionable Hope - All Day In Person Event at San Francisco State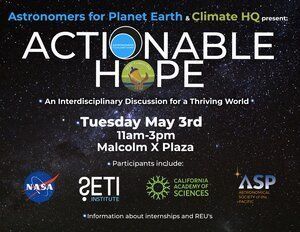 Actionable Hope: An Interdisciplinary Discussion for a Thriving World
On Tuesday, May 3, this on-campus event invites San Francisco State students, faculty and staff to come together and celebrate the successes in the work against climate change and keep up the momentum. Co-sponsored by Astronomers for Planet Earth (A4E) and Climate HQ, the four-hour event is packed with engaging speakers, information tables, astronomy demonstrations and a giant inflatable "meatball" courtesy of NASA. (The "meatball" is the nickname for NASA's insignia.)
A4E is an international community of astronomers using astronomy and our communal fascination with outer space to redirect our attention back to planet Earth. Co-sponsor Climate HQ is a campus-wide initiative that launched an interdisciplinary climate change certificate last yea.
Several leaders in astronomy and climate change will also be coming to campus for Actionable Hope. Major participants include NASA, the SETI Institute, the California Academy of Sciences and the Astronomical Society of the Pacific (ASP). At the heart of the event will be speakers from all of these organizations talking about astronomy, climate change and how we can all get involved. Among the scheduled speakers is Laurie Rousseau-Nepton, the first Indigenous woman in Quebec to obtain her doctorate in astrophysics.
Along with a giant inflatable "meatball," NASA will also bring a truck with solar-power capabilities. All of the participating organizations will also have tables during the event and share educational resources, internship opportunities, and many plan to have astronomy demonstrations.