World Space Week Oct 4-10 (An ASP Global Partner Event)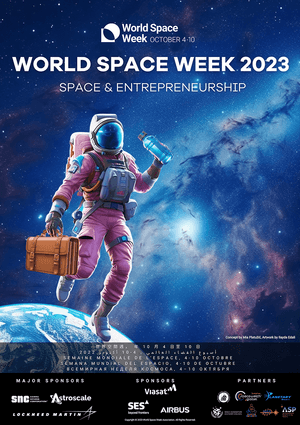 The United Nations-declared World Space Week, celebrated annually from October 4-10, witnesses thousands of organizations across the globe uniting to commemorate the contributions and advancements of space exploration. In 2022 WSW saw a record-breaking participation with more than 11,200 reported events across 87 nations.
"Our poster for 2023 symbolizes the converging path of space exploration and entrepreneurship," said Maruska Strah, WSWA Executive Director. "From innovative satellite communication services to promising startups that push the frontiers of space technology, entrepreneurial initiatives are constantly shaping the future of space."
The concept for the 2023 poster was crafted by a high school student in Croatia, Mia Platužić, who won the open call for poster concepts. Ilayda Edali, the Operations and Communications Manager at WSWA, transformed the concept into the final artwork.
Dennis Stone, President of the World Space Week Association, commented, "The theme for World Space Week 2023, 'Space and Entrepreneurship,' underscores the increasing significance of entrepreneurial engagement in the space sector. We look forward to fostering an understanding of the vast opportunities available within the sector and inspiring individuals globally to consider their role in the future of space exploration."
-------------------
About World Space Week
The largest space event on Earth, UN-declared World Space Week is celebrated October 4-10 annually. It is an international celebration of the contribution of space science and technology to the betterment of the human condition. World Space Week consists of a myriad of space related events held by space agencies, aerospace companies, schools, planetaria, museums, and astronomy clubs in a common time frame to achieve greater student and public impact through synchronization.
About World Space Week Association
World Space Week Association is the global coordinator of World Space Week. An international non-government, nonprofit organization, the Association is a permanent observer on the U.N. Committee on the Peaceful Uses of Outer Space. It is supported by voluntary contributions from sponsors including Sierra Nevada Corporation, Lockheed Martin Corporation, Viasat, SES, and Airbus. The Association, founded in 1982, is one of the world's oldest space advocacy organizations.