ASP remains dedicated to serving the public in this time of need and stress. Families across the nation are now faced with the enormous challenge of simultaneously working from home and guiding their children through online schooling. 
In response, the ASP has launched free-of-charge Astronomy @ Home programming starting with our popular, live children's storybook reading focused on space and astronomy for the very young.

View our reading Papa, Please Get the Moon for Me
Support families and educators with the guidance and knowledge needed to educate online, teach digitally, and learn outside of the classroom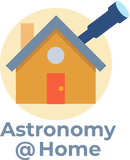 Be a part of our newest program, where families and educators can access astronomy activities to use at home, AstroBeat Talks featuring online "astronomy lectures" and webinars to the public, and Educators @ Home with webinars for K-12 science teachers on how to remotely engage their students in astronomy.