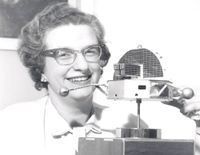 Nancy Grace Roman Award for Promoting Gender Equity
Introduced in 2023 to award an individual or group for their significant contributions to promoting gender equity and inclusion in astronomy and related fields
In honor of Nancy Grace Roman, who spearheaded the development of the Hubble Space Telescope and was a generous benefactor of the Society, the ASP calls for nominations beginning in 2023 for the inaugural Nancy Grace Roman Award for significant contributions to promoting gender equity and inclusion in astronomy and related fields. The award celebrates the achievements of individuals, groups, or organizations working to encourage participation in astronomy and related fields by people traditionally or currently excluded from these fields because of their gender, including girls, women, and transgender, non-binary, and gender non-conforming people. 
Goals of the Nancy Grace Roman Award:
To honor Nancy Grace Roman for her accomplishments and contributions to astronomy
To honor and elevate the profiles any outstanding individuals, groups, and organizations who have contributed significantly to promoting gender equity and inclusion in astronomy 
To build, grow and sustain gender equity and inclusion among ASP's global astronomical community
To encourage other individuals, groups, and organizations to support gender equity and inclusion in the field
To support ASP's mission to use astronomy as a gateway to science for all
---
The inaugural Nancy Grace Roman Award will be given in 2023 - Nominations are now closed
---
About Nancy Grace Roman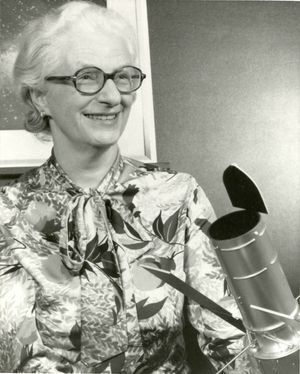 Nancy Grace Roman was an icon in the history of astronomy research and space exploration.  She was often called "mother" of the Hubble Space Telescope for her work in spearheading its development.  Roman was also a vocal advocate for encouraging girls to participate in STEM as well as a generous supporter of the ASP. Born in 1925, Roman loved astronomy from a very early age and credited her parent's encouragement as the engine that fueled her lifelong passion for science by teaching her to observe birds, love nature, and observe the stars and locate constellations.  By the time she was 11 years old, she had organized a weekly astronomy club for her girlfriends so she could share her knowledge about the night sky with them.
After completing an accelerated high school program, she earned a degree in astronomy from Swarthmore College in 1946, followed by a doctorate in astronomy from the University of Chicago in 1949. Ten years later, Nancy Grace Roman became the first woman to hold an executive position at NASA, overseeing a new "program for space astronomy." NASA itself was a new government agency, and in her position Dr. Roman toured the country to talk to the nation's research astronomers, find out what they wanted to study, and then convince them to consider the many advantages of collecting their data from space.
In the years that followed, Dr. Roman planned many of the highly successful programs and experiments for NASA's space missions, including SpaceLab, Gemini, Apollo, and Skylab. In 1979, NASA felt ready to develop a program to launch a large and versatile space-based telescope. Dr. Roman was hired by the agency to plan and campaign for this new generation of telescope, helping NASA pitch the project to a variety of skeptical government agencies, including Congress. Dr. Roman's passionate advocacy is credited for the launch of the Hubble Space Telescope in 1990, the instrument that for decades has provided the research community with images and data that has fundamentally transformed humanity's understanding of the cosmos.
---
Please contact our Awards team if you have questions about the nomination process.