Las Cumbres Amateur Outreach Award
For outstanding outreach by an amateur astronomer to children and the public
The Las Cumbres Amateur Outreach Award, given for the first time in 2001, seeks to honor outstanding educational outreach by an amateur astronomer to K-12 children and the interested lay public.
---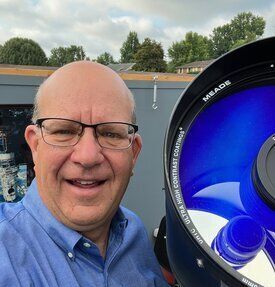 2022 Las Cumbres Amateur Outreach Award given to Billy Hix of the Von Braun Astronomical Society for his outstanding educational outreach programs
San Francisco, California- August 29, 2022 - Established by Wayne Rosing and Dorothy Largay, the Las Cumbres Amateur Outreach Award honors outstanding educational outreach by an amateur astronomer to K-12 children and the interested lay public. The 2022 award recipient is Billy Hix, member of the Von Braun Astronomical Society (VBAS) in Huntsville, Alabama, and founder/director of the Motlow College Foundation STEM Outreach Program in Tennessee.
Since his early years, Hix has had the drive to impact education and outreach in astronomy. Growing up on a rural farm in Tennessee, Hix was obsessed with the night sky and space program from the time he was discouraged from learning about science. He even declared in 5th grade to "work at NASA, and on his vacation days visit schools and talk about science."
Hix's aspirations became his passion and focus as an adult. For years before retirement, he took personal time on weekends and holidays traveling to schools that could not afford to attend planetarium programs and local science centers to conduct star/moon parties. He integrated astronomy into teaching standards and has woven the night sky into every discipline of instructional curriculum, giving teachers professional development in the process.  His outreach efforts using his portable planetarium dome have reached over 72,000 students and teachers. His tireless efforts after early retirement allowed him just this past school year to visit over 130 schools and conduct programs with over 13,000 students and teachers, many who are looking into a telescope for the first time. His dedication has even created an annual July star party at his home observatory in a field behind his home for a rural school.
As one colleague and nominator emphasized, "Every day as he visits a school, he has the expectation that he will inspire the student that has the potential in the future to solve one of the large cosmological questions. It will make everything he has done worthwhile when that student traces their love of astronomy to the day that the lights dimmed, and the stars came out in a planetarium and they saw a world that they did not know even existed."
There is no doubt that beyond his professional work as a teacher, his dedicated volunteer time and passion for astronomy introducing teachers and children about the night sky through his home and portable planetariums has given thousands exposure to the night sky and the opportunity to dream big. As one nominator praised, "…you will not find anyone who is doing more for astronomy outreach than Billy Hix. He has given much of his life to see that children have the chance to be inspired by the night sky."
Join us in celebration of Billy Hix's achievements at the in-person ASP Awards Gala on November 19, 2022 in Burlingame, California.
---
The Las Cumbres was last awarded in 2022.
Please contact the Awards team if you have questions about the nomination process