Robert J. Trumpler Award
For a recent PhD thesis considered unusually important to astronomy
The Robert J. Trumpler Award is given each year to a recent recipient of the PhD degree in North America whose research is considered unusually important to astronomy. We are honored this year to present the 2022 Trumpler Award to Dr. Ariadna Murguia-Berthier who completed her doctorate in astronomy in 2021 from the University of California, Santa Cruz
The Trumpler Award will be given in 2023 - Nominations are now closed
Please contact the Awards team if you have questions about the nomination process
---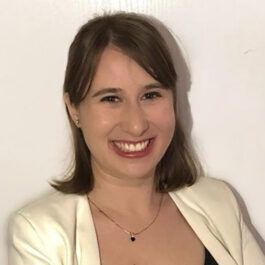 The recipient of the 2022 Robert J. Trumpler Award is Dr. Ariadna Murguia-Berthier who completed her doctorate in astronomy in 2021 from the University of California, Santa Cruz
Her dissertation, "Binary Neutron Star Mergers," was integral in interpreting and analyzing one of the most important recent astrophysical events – the first detection of both gravitation waves and electromagnetic radiation coming from the same astronomical object. Named GW/GRB170817, this multi-messenger event engaged the astronomical community in intense research efforts and helped solve some key mysteries, including the origin of heavy elements (like gold and platinum) and the source of the short gamma-ray bursts detected in the cosmos. Years prior to the event, Murguia-Berthier had developed simulations to study the conditions necessary for short gamma-ray burst jets to arise from neutron star mergers, including the role the formation of black holes from the neutron star merger remnants has on the propagation of the jet. This early work not only helped astrophysicists interpret GW/GRB170817, but Murguia-Berthier went on to develop a model revealing GW/GRB170817 as an off-axis view of a short gamma-ray burst jet.
Although early in her career, Murguia-Berthier already has an impressive publications record. By the time she had completed her doctorate, her 18 peer-reviewed articles had already been cited over 4,500 times. Of those, her seven first-author publications had been cited three hundred and fifty times. Her work appears in some of the most prestigious journals in science, including Nature, Science, and the Astrophysical Journal Letters. As one of her nominators wrote, "these impressive accomplishments highlight how Ariadna works at the frontier of astrophysics, maintains expertise on current topics and trends in the field, and is prepared to theoretically address developments on one of the most important astronomical discoveries in decades."
Murguia-Berthier is currently a NASA Hubble Postdoctoral Fellow at Northwestern University, where her main research interest continues to focus on studying the merger of compact objects through numerical simulations.
Join us in celebration of Ariadna Murguia-Berthier's achievements at the in-person ASP Awards Gala on November 19, 2022 in Burlingame, California.
---