Breakfast Moon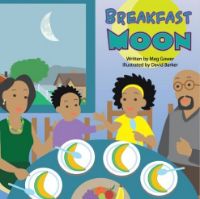 The ASP introduces the first storybook of its kind for engaging young budding astronomers!
Written by Meg Gower
Illustrated by David Barker
Paperback • 64 pages • Ages 4-8
Sizes: 8.5" x 8.5" or 12" x 12"
© Astronomical Society of the Pacific, 2018
"I loved this rendering of solid scientific information in an imaginative, childlike format!  I think equating shapes to things children can touch (and eat!) is brilliant..the historical context, with Mae Jemison and Arthur Walker, adds more depth and complexity. Wow! What an accomplishment."
– Marilyn Kimura, Librarian, The Nuevo School
Shop the AstroShop for the 8.5" x 8.5" or 12" x 12" edition
Bulk Orders – Contact Customer Service
---
About Breakfast Moon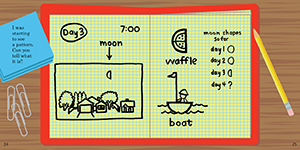 Breakfast Moon tells the story of Mae and her younger brother, Arthur looking for the moon in the sky each morning and recording their observations in their Moon Journal.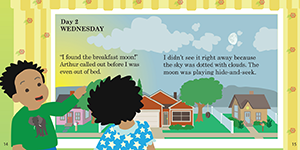 This engaging story encourages children to be scientists by observing the world around them. The illustrations accurately depict the shape and position of the moon over the course of several days.
"This is the perfect book for all those children who grow up thinking that the Moon is only up at night. Readers see how the Moon looks in the morning sky compared to items familiar to them – bananas, fried eggs, and rhinoceros horns. A fun read for the entire family."
—Dennis Schatz, Children's Book Author/President, National Science Teachers Association
"Using many concepts young children learn in school, Breakfast Moon and its activities are a wonderful introduction to the wonders of the moon for the future astronomer or scientist."
—Angela Dalton, Children's Book Author

The story and illustrations were developed in partnership with early childhood educators and developmental psychology researchers through the ASP's My Sky Tonight program, funded by the National Science Foundation.