Mercury - ASP Membership Magazine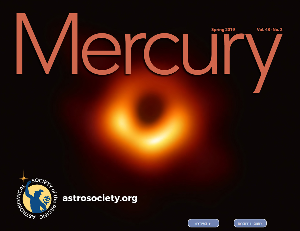 History
The first issue of Mercury Magazine appeared in January 1972 as a bimonthly popular journal to provide better public understanding of astronomy. It was intended to interpret the results of astronomical research for the nonspecialist and was filled with high-quality space news, opinions, guides and features to the Society's members. By 2007, Mercury magazine was offered in printed and digital form transitioning to all-digital a year later as the world turned digital. Visit the Mercury Archives to see the the table of contents for each digital issue.
Today
Mercury magazine continues as a quarterly digital publication for ASP members and institutional subscribers. It now has a voice beyond its Members as we launch Mercury Online, featuring our recognized columnists, current space news, and more in a new and up-to-date blog format. 
"We live in turbulent yet exciting times, so it is our hope that Mercury Online will showcase humanity's drive to explore by delivering high-quality  articles for members and nonmembers alike." — Ian O'Neill, Editor, Mercury magazine and Mercury Online
Become and ASP Member and receive access to Mercury Magazine as well as to a rich history of digital issues going back to 2007 and other exclusive membership benefits.

Become an ASP Member and have Mercury magazine delivered to your inbox every quarter!