Mercury - ASP Membership Magazine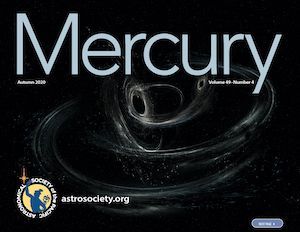 Hello, Mercury readers, I want to quickly introduce myself because you'll see my name around here often. I'm Liz Kruesi, and I'm thrilled to be the new Editor of both Mercury (the magazine) and Mercury Online (the blog companion). In a recent Mercury Online post, I tell you a bit more about my background and how important the ASP's mission is to me.
History
The first issue of Mercury magazine appeared in January 1972 as a bimonthly popular journal to provide better public understanding of astronomy. It was intended to interpret the results of astronomical research for the nonspecialist and was filled with high-quality space news, opinions, guides and features to the Society's members. By 2007, Mercury magazine was offered in printed and digital form transitioning to all-digital a year later as the world turned digital. Visit the Mercury Archives to see the the table of contents for each digital issue.
Today
Mercury magazine continues as a quarterly digital publication for ASP members and institutional subscribers. It now has a voice beyond its Members as we launch Mercury Online, featuring our recognized columnists, current space news, and more in a new and up-to-date blog format. 
" I truly believe the wonder and awe of astronomy can be relatable and available to anyone: a glance at the Moon above, or watching for meteors from a dark site, or staring at the beautiful cosmic images our telescopes collect. I'm excited to share those wonders with you here at Mercury and Mercury Online." — Liz Kruesi, Editor, Mercury magazine and Mercury Online
Become an ASP Member and receive access to Mercury magazine as well as to a rich history of digital issues going back to 2007 and other exclusive membership benefits.

Become an ASP Member and have Mercury magazine delivered to your inbox every quarter!