Early Learners
Young children are natural scientists. They show interest in the Sun, Moon, and stars at a very early age. The ASP is committed to creating astronomy activities and experiences for young learners that are developmentally appropriate and engage their innate curiosity about the sky, astronomy, and space.
Breakfast Moon Children's Storybook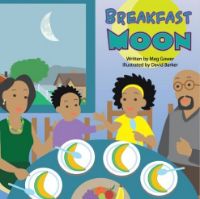 Now Available For Purchase
Breakfast Moon is an engaging storybook featuring Mae and her younger brother, Arthur, looking for the moon each morning and recording their observations in their Moon Journal. Developed in partnership with early childhood educators and developmental psychology researchers, the story encourages children to be scientists by observing the world around them.
Shop the ASP's AstroShop for the 8.5″ x 8.5″ paperback or 12″ x 12″ Library Edition.
Contact Customer Service for wholesale and bulk retail orders.
My Sky Tonight
Through the NSF-funded My Sky Tonight program, we have created a set of research-based, science-rich astronomy activities that are engaging and developmentally appropriate for pre-K aged children, and trained hundreds of educators at museums, parks, and libraries across the U.S. on how to effectively engage their youngest visitors (ages 3 – 5) in astronomy.
My Sky Tonight is a program from the ASP, in partnership with experts in cognitive development, early childhood, and astronomy learning progressions from UC Santa Cruz, Cal Poly San Luis Obispo, and Penn State; as well as early childhood educators at the Lawrence Hall of Science, Children's Discovery Museum of San Jose, San Luis Obispo Children's Museum, and Discovery Space.

*My Sky Tonight is based upon work supported by the Division of Research On Learning (DRL) of the National Science Foundation under Grant no. AISL #1217441. Any opinions, findings, and conclusions or recommendations expressed in this material are those of the authors and do not necessarily reflect the views of the National Science Foundation