Thomas J. Brennan Award
For exceptional achievement related to the teaching of astronomy at the high school level
The Thomas J. Brennan Award recognizes excellence in the teaching of astronomy at the high school level in North America. The recipients have demonstrated exceptional commitment to classroom or planetarium education, as well as the training of other teachers. The Brennan Award was last given in 2021.
The Brennan Award will be given in 2023. Nominations are now closed.
Please contact the Awards team if you have questions about the nomination process.
---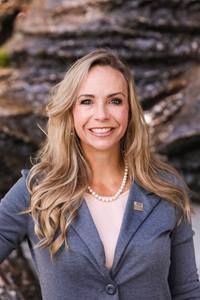 Christine Hirst Bernhardt, Albert Einstein Distinguished Educator Fellow, mentor, curriculum developer, and education leader, receives the 2021 Thomas J. Brennan Award for demonstrating excellence in the teaching of astronomy at the high school level in North America. 
Bernhardt's enthusiasm and passion for all things astronomy has led her to be a role model to students in the classroom, mentor to her fellow colleagues, and astronomy ambassador in the community and abroad.  Her dedication and enthusiasm have no doubt created future educators, researchers, and lifelong astronomers.
As a teacher, she has developed a signature, hands-on high-altitude ballooning project where students design experiments to be carried into the stratosphere and launch from the school's outdoor stage. She has mentored students in her astronomy club, founded a community space program bringing to them activities, telescopes, and NASA speakers, volunteered her time at elementary schools and with STEM programs focused on girls, and has mentored students how to write science proposals aboard both ISS and NASA SOFIA missions and participate in her student space symposium. A former student and UCSB Physics Major confirms  – "I can say with complete certainty that I wouldn't be where I am today, as an astrophysics major pursuing what I love, without her influence and inspiration."
Enthusiasm reaches far beyond the classroom as Bernhardt also develops curriculum, both as a teacher and as an ambassador connecting teachers to resources through developing curriculum and on the newly formed National Astronomy Education Committee through the International Astronomical Union.  Her educational leadership includes designing and facilitating a program to integrate Earth and Environmental concepts into Next Generation Science Standards (NGSS) including best practices, pedagogy, and progression toward[MOU6]  full implementation of NGSS in the greater Los Angeles area. 
Bernhardt, as a National Astronomy Education Coordinator, plans to develop impactful professional development for teachers wishing to implement astronomy-based lessons, and connecting teachers to unique learning opportunities in astronomy.
Join us in celebration of Bernhardt's achievements at the 2021 ASP Awards Gala (a Virtual Presentation) on November 19, 2021.
---