Thomas J. Brennan Award
For exceptional achievement related to the teaching of astronomy at the high school level
The Thomas J. Brennan Award recognizes excellence in the teaching of astronomy at the high school level in North America. The recipients have demonstrated exceptional commitment to classroom or planetarium education, as well as the training of other teachers. This award is given bi-annually starting in 2018. However due to the 2020 Awards being canceled, the Brennan Award will next be given in 2021.
---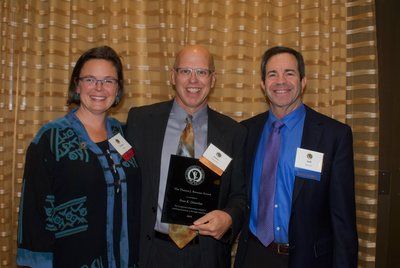 The Thomas J. Brennan Award is given to an individual demonstrating excellence in the teaching of astronomy at the high school level in North America. Peter Detterline, Planetarium Director and high school astronomy teacher for the Boyertown Area School District in Boyertown, Pennsylvania, is the 2018 recipient of the Brennan Award.
Detterline recently counted his 500,000th visitor to the district planetarium and has also been a part-time astronomy instructor at several local colleges and universities. Several generations of students have been inspired to a greater interest, in and involvement with, astronomy through his passion. He has participated in and made contributions to a host of science education programs outside his area, including a robotic observatory in New Mexico, the Mars Desert Research Station, the AAVSO, and the Astronomy in Chile Educator Ambassador Program. He has written observing and observatory manuals, research papers, newspaper columns, and more.
One of his nominators described him in terms every teacher will appreciate; "Mr. Detterline is determined, concerned, inquisitive, happy, funny, tenacious, goal oriented, technologically sophisticated, and passionate about astronomy and teaching." It's a list of adjectives that pays appropriate tribute to this whirlwind of educational activity.
---
Please contact the Awards team if you have questions about the nomination process.