Publications of the ASP (PASP)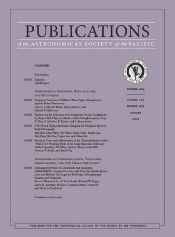 PASP is the technical journal of the Astronomical Society of the Pacific (ASP), publishing refereed manuscripts on astronomical research covering all wavelengths and distance scales as well as articles on the latest innovations in astronomical instrumentation and software. It features invited review papers on contemporary topics, contributed research articles, a section on astronomical instrumentation and data analysis, conference abstracts and summaries, and Ph.D. dissertation summaries. Since 2016 IOP publishing distributes PASP to ASP Technical Members* and Institutional Subscribers.
Access Options:
Author and Article Submission Instructions:
*Important note: beginning January 2021, the PASP will only be available as a digital publication. If you join the ASP as a Technical Member, you will only receive printed copies through December 2020. We highly recommend joining with an E-Technical Membership. Should you continue to select the Individual Technical Membership, please note your membership will automatically switch to E-Technical in January 2021.