ASP Conference Series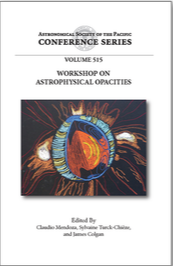 The ASP Conference Series publishes timely accounts of the important meetings in astronomy & astrophysics. Since 1988, the ASP has published eight monographs and over 500 conference proceedings volumes, preserving for posterity the latest results in astronomy, astrophysics, space science, and astronomy education from conferences and workshops held around the world.
Publishing Information
Visit the Editor's Materials section on our Publisher's website for all information needed to publish with the ASP Conference series as well as ordering information for eBooks.
Orders
Individual Printed Volumes
Order online, by mail or fax. Purchases of printed volumes include E-Access.
E-Access books or articles
Receive immediate access for individual use with E-Access-only purchases.
ASP Conference Series Editorial Office
aspcs@aspbooks.org
(801) 863-8804
Customer Service for Conference Series, Monograph Publications, and IAU Publications
service@astrosociety.org
(800) 335-2624 in the U.S
(415) 715-1414 outside the U.S.