ASP Annual Awards Gala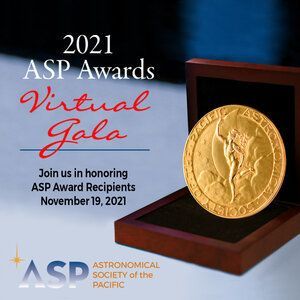 You are invited!
Please join us on Friday, November 19, 2021 at 5:00 pm Pacific Time for the first special Virtual ASP Annual Awards Gala! 
This special evening will be presented via a Zoom Webinar, featuring a presentation to each Awardee including special talks by the recipients.  Your ticket purchase is a donation in support of the work and mission of the ASP.
---
ASP 2021 Award Recipients:
Bruce Elmegreen – Catherine Wolfe Bruce Gold Medal
Gudmundur Kari Stefansson – 2020 Robert J. Trumpler Award
Jane Huang – 2021 Robert J. Trumpler Award
Lars Lindberg Christensen – Klumpke-Roberts Award
Christine Hirst Bernhardt – Thomas J. Brennan Award
Visit our Awards page for a complete listing of the 2021 Awardees and additional information about each Award.
---
About the Annual Awards Gala
Each year the ASP honors and recognizes the ASP Awards Recipients for their leadership in and advancement of astronomy and space science.
Due to COVID, the ASP did not select recipients in 2020. Our last Gala was in person in 2019 where we  presented the prestigious Catherine Wolfe Bruce Gold Medal (awarded since 1898) for lifetime achievement in astronomy research to Dr. Martha P. Haynes who has made major contributions to our understanding of the composition, interactions, distribution, and evolution of galaxies in the universe throughout an impressive research career spanning over 40 years. 
The ceremony featured presentations of six additional awards, including the revered Arthur B.C. Walker II Award, presented to Dr. William M. Jackson, Jr., a renowned astrochemist who has studied the chemistry of comets, and in particular, how the free radicals observed in comets are formed and has worked tirelessly to diversify STEM fields throughout his career.  Note: for the first time, the ASP did not honor anyone for it's prestigious annual awards in 2020.
View our Awards Gala Photo Gallery below for highlights.

---
ASP 2019 Awards Gala Photo Gallery