Programs and Professional Development
The ASP serves K-12 educators who work in the classrooms and those who provide professional development (PD) to teachers. We design and organize diverse programs and services to support the teaching of astronomy as the gateway to science literacy: workshops, publications, bibliographies, PD conferences and networking.
Imagination will often carry us to worlds that never were. But without it we go nowhere. — Carl Sagan
---
Professional Development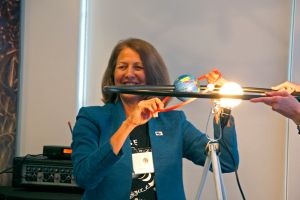 New!
The ASP announces a professional development program (ASP Eclipse STARS) for teachers and other educators located along the path of totality. You will learn about solar eclipses and be introduced to learning activities designed so you and your students will better understand what causes this awesome celestial event and how to view totality safely.  
---
Past programs have included Project ASTRO where we pair teachers with astronomers to share the excitement of astronomy in classrooms around the country, our Galileo Teacher Training Program (GTTP), a two-day professional development workshop, and Cosmos in the Classroom for teachers of college-level introductory astronomy including education workshops about the most popular and populated basic science class in universities across the country.
A teacher affects eternity; [s]he can never tell where [her] his influence stops. — Henry Brooks Adams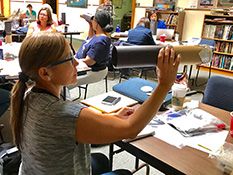 Galileo Project: Pinhole Workshops
In 2017, thanks to funding from the Gordon and Betty Moore Foundation, the ASP expanded its resource and professional development offerings related to the Galileoscope to include a series of in-person and online workshops, articles, and videos to support the use of the Galileoscope in a variety of educational settings.
This has been one of the best PDs ever! I have had so much fun and have been learning so much through "play" and exploration. — Anthony Lund
---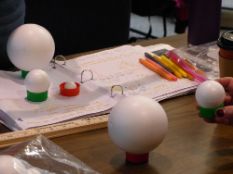 Professional Development Opportunities for K-12 Teachers
The Teacher Learning Center at the ASP delivers NGSS-aligned professional development to help meet your school district needs. Our hands-on workshops will delight and motivate your teachers to deliver three-dimensional instruction actively engaging and inspiring learners of all ages in space and earth science related phenomena.
Contact us for more information.
---
Classroom Resources
AstroShop: Education Materials
The ASP carries astronomy-related products & outreach materials. All proceeds from product sales support the mission and education programs of the ASP. 
---
Publication/Newsletter/Articles
This electronic educational newsletter is for teachers and other educators around the world who want to help students of all ages learn more about the wonders of the universe through astronomy.
AstroBeat is an ASP's membership benefit. Produced 6 times a year, this digital article is written by "insiders" from the worlds of astronomy research and outreach. 

Musings on the Planet - ASP Director's Blog
Musings on the condition of our planet Earth, its place in the cosmos, and the thoughts and state of mind of its inhabitants.
---
Legacy ASP Programs
Project ASTRO is a national program that partnered astronomers and teachers in the classroom.
San Francisco Bay Area ASTRO was a Project ASTRO National Network Site run by the ASP.
Galileo Teacher Training Program
The Galileo Teacher Training Program was a pilot program established during the International Year of Astronomy in 2009, testing a new model of teacher professional development designed to facilitate the teaching of the process of science using Galileo's iconic observations and other resources. We partnered with the International GTTP program to produce a series of short webinars you may find helpful.
NASA Galileo Educator Network (GEN)
The NASA Galileo Educator Network (GEN) was a NASA funded teacher professional development program managed by the Astronomical Society of the Pacific.