Burçin Mutlu-Pakdil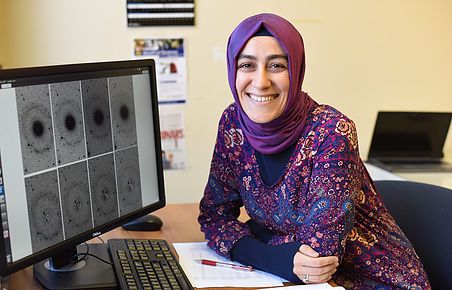 Post-doctorate Research Associate
Steward Observatory, Arizona
How did the Ambassador Program help you?
The Ambassador program helped me develop many important skills in science communication and gave me an access to many outreach resources that work in a variety of settings. I participated [in] a two-day workshop which taught me how to reach my audiences with personal stories, hands-on activities, and jargon-free language. One important activity was "to participate in a mock outreach event in biology". This activity clearly showed me that a simple concept for a scientist can be very intimidating and very complex for anyone who is not in that field.
Why do you do this work?
As a woman immigrant astronomer and first generation in my family to attend college, I have long been committed to diversity and equal opportunity in higher education. I grew up listening to my father's stories about how he was successful in elementary school. Unfortunately, he dropped out of school after the fifth grade to take care of his parents. These childhood stories are the motivating force for my commitment to support and improve higher educational opportunities. Throughout my undergraduate education, I have volunteered to provide tutorials for K-12 students in low-income-neighborhood schools, met with them regularly, and worked hard to increase their chances of going to college. The goal of the Astronomy Ambassador is to increase scientific literacy through public programs and this is exactly what I want.
Share an outreach event you are most proud of.
TED stage is an incredible platform which helped me to reach thousands of people around the world. It gave me an incredible audience and a powerful voice. As a Muslim woman in science, I have long been in a war against stereotypes and I dream to be an inspiring scientist who shows everyone that science can be both enjoyable and reachable for anyone, especially for women and 'minorities'. My TED talk helped me to spread the idea of that anyone could be anything, regardless of any of the social identifiers (gender, religion, race, etc.). I received hundreds of emails/messages from women in Muslim countries, saying that my work gave hope to Muslim girls to pursue a science-related career. Many high school/college students reached out to me and asked about the academic career and the career paths in academia. I can definitely say that my TED talk was more rewarding than I [could] have imagined.
Burcin Mutlu-Pakdil's TED Talk:
TED 2018 A rare galaxy that challenges our understanding of the universe.