Sandra Liss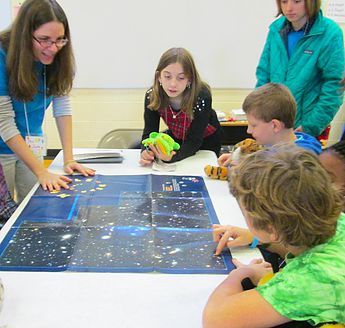 Instructor of Physics
Radford University, Virginia
How did the Ambassador Program help you?
The AAS/ASP Ambassador program represents a community of scientists who want to share their passion for science with their communities. It connected me with other astronomers who are interested in understanding and improving upon the state of science education and outreach. I learned valuable skills and was introduced to useful resources that have helped me enhance and rethink the way I conduct outreach. It also provided a forum in which I was able to develop confidence in myself and in my work (both scientific and outreach).
Why do you do this work?
Sometimes the research/academic process can feel draining. When that happens, doing outreach reinvigorates me by reminding me that science is fun and that I am lucky to be able to do this for a living!
 
Share an outreach event you are most proud of.
Throughout graduate school, I was an active member of UVa's Dark Skies, Bright Kids! astronomy outreach program. DSBK's mission is centered around fostering long-term and long-lasting relationships between upper elementary students from underserved populations and volunteers from UVa's Department of Astronomy. Traditionally, we achieved this through facilitating 8- to 10-week long Astronomy Clubs at a different school each semester. In 2015, we were awarded a grant from the David and Lucile Packard Foundation to expand our program to include week-long summer camps throughout Virginia. Though the process was logistically challenging and time consuming (new networking, transportation and lodging considerations, volunteer time, unfamiliar spaces, etc.,) it allowed us to reach out to even more students and regions within our demographics. And I think the results were more than worth it! The students were excited and enthusiastic, and their parents were grateful and supportive. Our volunteers were re-energized and they were exposed to new leadership and management responsibilities. We were also able to share our lessons and resources with local instructors so that they could continue to implement our inquiry-based, hands-on activities throughout the school year when our volunteers couldn't be there in person. The summer program just completed its third iteration and we are looking forward to many more.