Read more about Author Jacquelline Mitton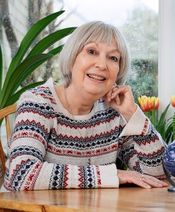 Mitton cannot remember a time when she wasn't fascinated by the starry sky. By 15 she had her own small telescope and was sure she wanted to be an astronomer, an unusual career for a girl at that time.
She studied physics at Oxford University and then went on to do astronomy research at Cambridge University. After taking some time out when her two daughters were young, she became involved in writing and media work in astronomy and didn't go back to research. Since then, MItton has done all kinds of writing, media, consultancy and outreach, including work for the Royal Astronomical Society and the British Astronomical Association. She has 30 published books to her credit, including nine for children and younger readers.
Jacqueline lives in Cambridge, England, with her husband Simon, who is also an astronomer and writer. Asteroid 4027 was named "Mitton for both of them in 1990.