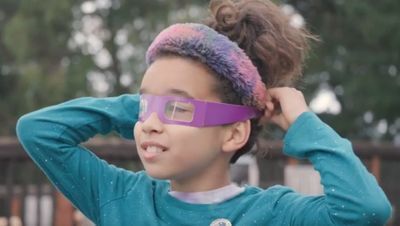 New opportunities to take this course coming in 2023
Contact the ASP for additional information
 
---
Confidence & Curiosity: Engaging Girls in Informal Science
3-Week Online Course / Dates to be announced for 2023
Become a more welcoming and engaging facilitator! Please join us for Confidence & Curiosity: Engaging Girls in Informal Science.
Explore public engagement techniques and strategies you can use at your next science event to make it more welcoming to girls (and to everyone who has been traditionally excluded from science). Prior NASA funding allowed us to extensively pilot, evaluate, and shape this course into an engaging, interactive experience for informal science educators.
ABOUT THE COURSE:
This 3-week, online course will introduce you to the best practices in inspiring public engagement, including how to encourage growth mindset, utilize diverse storytelling and representation, address misconceptions, ask and answer questions, and investigate bias and micro-messaging. The course includes: weekly interactive live sessions (75 minutes), personally reflective assignments (approximately 2 asynchronous hrs. per week) and opportunities to share ideas with a like minded community dedicated to inclusive outreach.
This course is perfect for science museum docents and staff, nature center guides, informal STEM educators and youth leaders, amateur astronomers, and anyone else who engages the public in the joy of science. You'll be amazed at the difference a few small changes can make!
Course Leader: Theresa Summer, ASP Astronomy Educator
Pricing: $150 per individual, $120 for ASP members (after logging into MyASP Portal.)
Contact the ASP for Group Pricing - $120 each for groups of 5+ from the same organization.
---

About Theresa Summer
Theresa Summer has been active in astronomy education since 1998. She shares her love for astronomy with everyone… in planetariums, museums, classrooms, tutoring and public observing events.
At the ASP since 2016, she has been developing programs to spread astronomy and science literacy around the globe. Theresa is the creator of the "Confidence & Curiosity: Girls at the Telescope" workshop and award winning video series, as part of NASA's Girl Scouts Reaching for the Stars, the team that produced the GS Space Science badges.
She is currently working to bring diverse undergraduates into public engagement through the Eclipse Ambassadors program as well as developing astronomy activities with the blind and visually impaired communities.
With a specific focus on social justice and increasing opportunities for marginalized voices, Theresa's secret mission in life is to make science more welcoming to all. She believes that science is for everyone, and is an important part of being an active citizen in today's world.
---
About Confidence & Curiosity Program
Why are there so few female astronomers? The answer is complex, but we all hold the key to making astronomy more welcoming to girls. The ASP partnered with the Girl Scouts and other experts to share ways that we can all make a difference in what the future of astronomy looks like.
5 videos were created by the Astronomical Society of the Pacific in support of the NASA-funded Girl Scouts: Reaching For the Stars project, led by the SETI Institute and in collaboration with Girl Scouts USA and Girls Scouts of Northern California. Our Video Showcase recently was a recent winner of the 2022 STEM for All Video Facilitators' Choice Award!