Danilo Vidal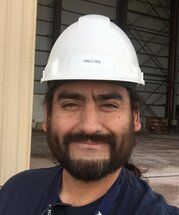 Danilo Vidal is the Public Relations Officer at the ALMA Observatory in Chile. Local community relations are a crucial part of ALMA's presence in Chile, especially with the indigenous communities that live in San Pedro de Atacama.
Over the years, ALMA promotes different instances to support the local community, including a competitive fund that promotes productive, social and economic development; educational programs for local elementary & high schools focused on science, and a program for students with special needs.
The community relations agenda also includes local school visits, talks, and astronomy courses. 
In partnership with the Museum of San Pedro and local researchers, the observatory has been involved in the preservation of the indigenous -Atacameño- cultural heritage and its vision of the Cosmos through an ethno-astronomy project.
Danilo's duties are dealing with all those programs and be the representative of the observatory in the daily life of the community of San Pedro de Atacama, where he lives for more than two decades.