International Observe the Moon Planning with Night Sky Network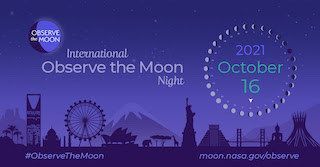 Join the NASA Night Sky Network on Wednesday, September 8 at 6:00pm Pacific Time (9:00pm Eastern) to hear Andrea Jones help folks prepare for this year's activities for International Observe the Moon Night.
International Observe the Moon Night, October 16, 2021, is a time to come together with fellow Moon enthusiasts and curious people worldwide. Everyone on Earth is invited to learn about lunar science and exploration, take part in celestial observations, and honor cultural and personal connections to the Moon.
Come learn more about the program at the September 8 planning night, and how you and your club or institution can participate. We'll highlight program resources including a new event Moon map and Moon viewing guide, advertising materials, and social media shareables. We'll highlight some recommended hands-on activities, offer tips and resources for hosting virtual events – and for evaluating them.
About Andrea Jones
Andrea Jones is a planetary geologist and the Public Engagement Lead of the Solar System Exploration Division at NASA's Goddard Space Flight Center. She shares NASA planetary science research and discoveries with national and international audiences and connects division scientists to, and supports them in, public engagement opportunities. Andrea is the Public Engagement Lead for NASA's Lunar Reconnaissance Orbiter mission and Director of International Observe the Moon Night.