2022 STEM for All Video Showcase: Vote for ASP Confidence & Curiosity Videos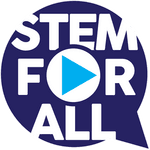 The ASP is proud to be a part of the 2022 STEM for All Video Showcase
You are invited to View, Discuss & Vote!
May 10-17 the ASP will be showcased with other videos depicting innovative, federally funded projects aimed at improving Science, Math, Engineering and Computer Science education. You can discuss the videos online with the presenters and other visitors and/or vote for your favorite presentations for the Public Choice award. Thousands of researchers, educators, higher ed faculty, and parents will take part in this free, NSF funded event.
ASP is featuring our Confidence and Curiosity videos series with a showcase video. The Showcase is open May 10-17 to view and vote! We hope you are as excited about our videos as we are.
The link below will take you to the ASP's showcase video.
You can also view all of our videos through the link below. We also have links to our previous video showcase videos from years past.