Free Live Storytime: Imani's Moon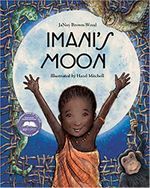 Join us for a live reading of the illustrated children's storybook, Imani's Moon, written by JaNay Brown-Wood and illustrated by Hazel Mitchell. Imani is a Maasai girl who wants to touch the Moon. Despite teasing, she works hard to reach her goal.
Activity for after the reading: we'll observe some photographs of the Moon and make our own drawings. Please bring paper and drawing tools. We recommend black construction paper and white chalk, but any paper and drawing tools will work. If you want, you could also look for the Moon in the sky, and draw what you see!
Times are in Pacific Time.