Free Live NSN Webinar Series: Erika Blumenfeld from NASA's ARES program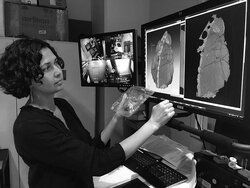 Join the NASA Night Sky Network on Monday, November 22 at 6:00pm Pacific Time (9:00pm Eastern) to hear Erika Blumenfeld from NASA's ARES program at the Johnson Space Center share with us their new Astromaterials 3D project.
Join us as Transdisciplinary Artist Erika Blumenfeld shares the story of NASA's Astromaterials 3D project and provides a tour of this powerful website and tool.
About Erika Blumenfeld
Erika Blumenfeld is an independent transdisciplinary artist working at the intersection of art, science, nature and culture. Her research-based art practice is motivated by the wonder of natural phenomena and she often works in collaboration with scientists and research institutions, including NASA, the Scripps Institution of Oceanography, the McDonald Observatory, and the South African National Antarctic Program. Blumenfeld is a Guggenheim Fellow, a Smithsonian Artist Research Fellow, and has exhibited widely in museums and galleries in the U.S. and abroad. Her work is featured in multiple books and resides in many permanent collections including the Houston Museum of Fine Art.
Viewing Options
The event will also be streaming live on YouTube, but please note that questions asked over the NSN-members-only Zoom Q&A will be prioritized.
Further Information and Additional Viewing Options see below.