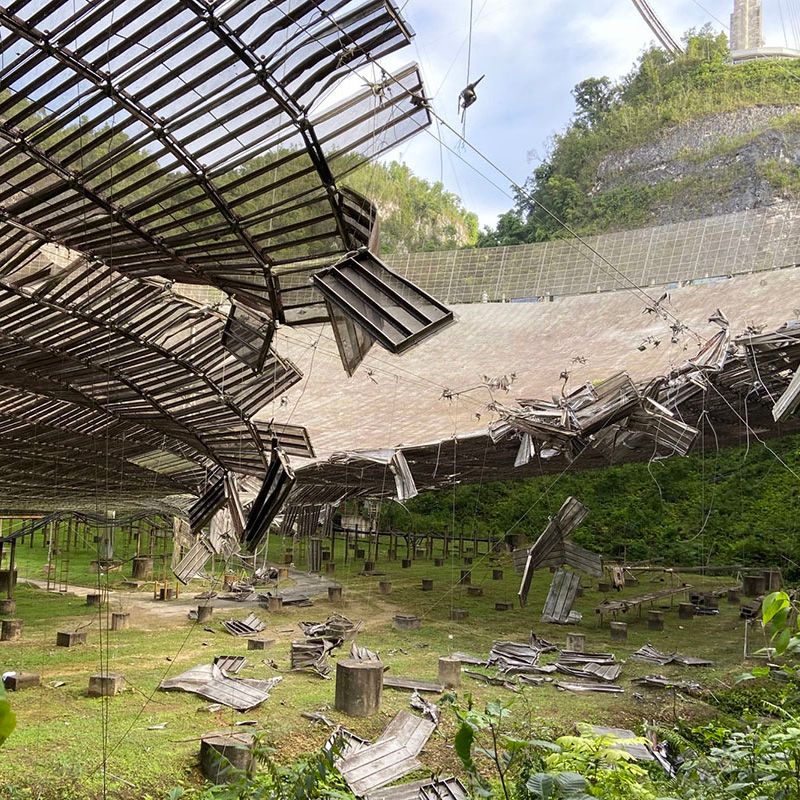 Image: A 3-inch-diameter support cable at the Arecibo Observatory snapped and tore a 100-foot-long gash in the dish. [Arecibo Observatory/UCF]
One of the world's largest radio observatories is out of commission for an unknown amount of time, after a cable snapped and tore a gash through the collecting dish. The Arecibo Observatory, located in Puerto Rico, has searched the sky for radio waves for more than 50 years.
Four hundred and fifty feet above the 1,000-foot-wide (305 meters) dish sits the telescope's platform, which is suspended by a system of strong steel cables and reinforced concrete towers and blocks, a bit like a suspension bridge. One of those cables snapped in the early morning hours of August 10. As it came crashing down, it twisted the platform and damaged several panels in the Gregorian dome, which houses the observatory's secondary and tertiary reflectors. Then the cable tore a 100-foot (30m) gash through the main dish, hundreds of feet below. There's been no information on what causes the cable to break or how long the telescope will be unusable.
"We have a team of experts assessing the situation," said Francisco Cordova, the director of the observatory, in a statement the University of Central Florida (UCF) released today. UCF manages the National Science Foundation facility in partnership with Universidad Ana G. Méndez and Yang Enterprises Inc. "Our focus is assuring the safety of our staff, protecting the facilities and equipment, and restoring the facility to full operations as soon as possible, so it can continue to assist scientists around the world," Cordova added.
In 2017, the Arecibo Observatory suffered damages as Hurricane Maria ripped through Puerto Rico. Earthquakes early in 2020 seemed to have spared the facility.
Radio astronomers have used Arecibo Observatory for a plethora of discoveries and research projects related to radio astronomy and especially pulsars, the lighthouses of the stellar remnant world. With the facility down for the foreseeable future, some of that science will be put on hold.
—

Liz Kruesi is the editor of Mercury magazine and Mercury Online. She has shared the stories of astronomy since 2005. Read more articles by Liz.