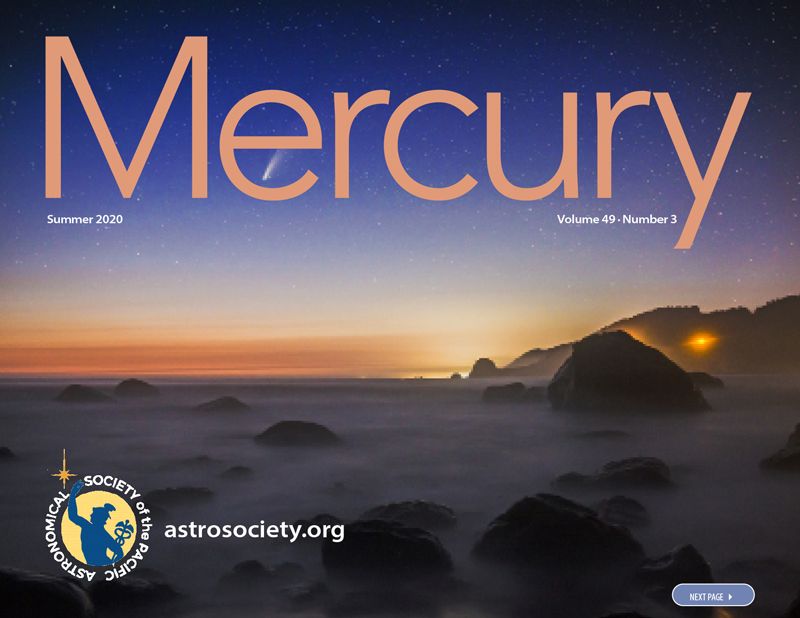 The Summer 2020 issue (vol. 49 no. 3) of Mercury magazine is now available for our members!
Featured in this issue:
The European Space Agency (ESA) set a big task for Gaia when it launched the space telescope in 2013: measure over one billion stars in the Milky Way with unprecedented accuracy. The growing trove of data has already generated fundamental new discoveries about our galaxy and, in 2020, the pace of that productivity is accelerating.
On March 27, 2020, the NEOWISE space mission's automated data-sifting program flagged a dozen images with an object of interest. Over the summer, observers — both professional and amateur — around the world tracked and studied how Comet C/2020 F3 (NEOWISE) brightened and evolved.
See the closest image captured of the Sun and an Earth-based image taken with the under-construction Vera C. Rubin Observatory's powerful camera.
We also have our regular columnists covering a 15th century poet's trip through the Solar System, an educational activity to measure Earth's radius, both the history and the newest discoveries of the large asteroid Ceres, star formation in nearby galaxies, and more.
Download your copy of Mercury today to read all the latest space news and opinion!
—

Liz Kruesi is the editor of Mercury magazine and Mercury Online. She has shared the stories of astronomy since 2005. Read more articles by Liz.