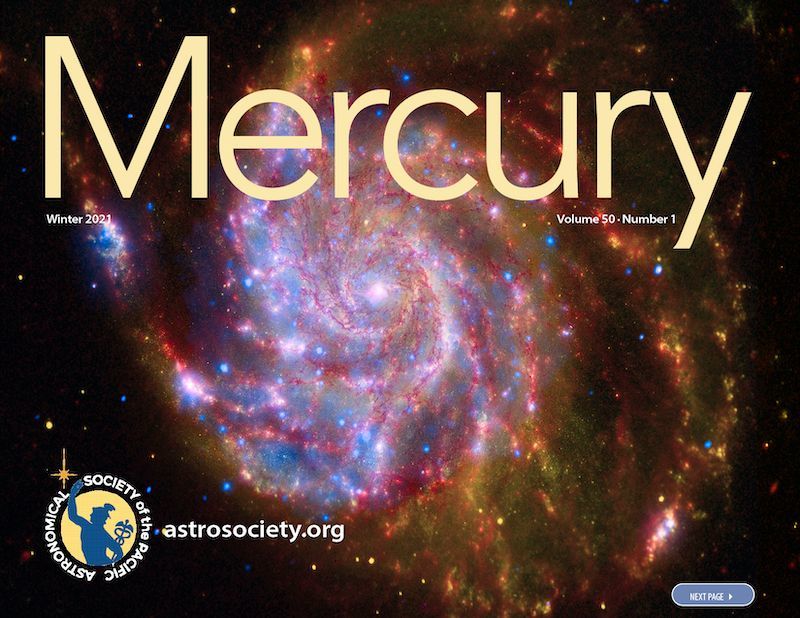 The Winter 2021 issue (Vol. 50 No. 1) of Mercury magazine is now available for our members! This issue marks the first in Volume 50 of Mercury. To celebrate, and to reflect on the time that has passed since the magazine launched in 1972, this issue and the forthcoming three issues in Volume 50 each include several columns and feature articles that focus on discoveries and other ways astronomy has changed in the past five decades.
Featured in this issue:
When the crew of Apollo 16 landed on the Moon in April 1972, they set up the first astronomical telescope on another world, an instrument that explored the lunar skies in the ultraviolet (UV) band. While science and technology have changed dramatically in the decades that followed, astronomy has always been woven into the fabric of human spaceflight. Take a tour through these intertwined networks.
NASA's four Great Observatories — the Hubble Space Telescope, the Compton Gamma-Ray Observatory, the Chandra X-ray Observatory, and the Spitzer Space Telescope — have become a legendary monument to the collaboration and insight of the astronomical community.
Mars has a new rover and multiple orbiters. Here are a few images from these recent Red Planet guests.
We also have our regular columnists describing a couple pivotal solar eclipses of astronomical past, suggesting fake images shared on social media can actually lead to fruitful education opportunities, describing how helpful "concept maps" are to astronomy education, introducing cosmic blasts from the past several decades, and more. Download your copy of Mercury today to read all the latest space news and opinion!
—

Liz Kruesi is the editor of Mercury magazine and Mercury Online. She has shared the stories of astronomy since 2005. Read more articles by Liz.