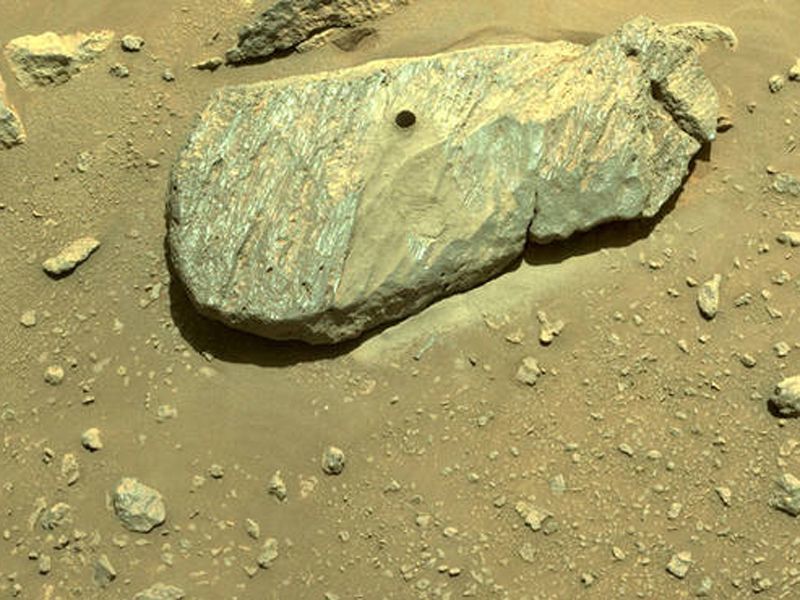 NASA's Perseverance rover successfully collected its first sample, a core drilled from this rock on the Martian surface. [NASA/JPL-Caltech]
The Perseverance rover, which has been on Mars since February 18, has successfully drilled its first core sample and stored said sample in a titanium tube. The NASA mission first tried to collect a sample in August, but the rock crumbled, said the space agency. The second attempt, which used a different rock, was a success, and it demonstrates the rover's complex, multi-day, sample-collection process works.
The captured sample comes from a briefcase-size rock on a ridge in Jezero Crater, the site the rover has been exploring for months. Once the team selected the sampling site, the rover began its collection process September 1. First, Perseverance's drill ground away the top layer of the rock, then the drill cut a pen-size core. The rover placed that core in one of its 42 remaining titanium tubes. Perseverance then transferred the tube (with its sample) to the rover's underside, where a suite of instruments imaged and inspected the freshly captured material. Finally, the process was completed September 6 when the tube was sealed, to wait for some future day when it returns to Earth for further analysis.
On this coming Friday, September 10, NASA will host a teleconference about the sample collection. You can find out more here.
The Mars2020 mission has the capacity to collect and store dozens more samples, and the team expects many of those to come from Jezero Crater's delta region. While the rover is staying relatively near (within a couple miles) from its landing site, it will eventually move farther north and west to an area marks a once-river and a once-lake met. On Earth, the beds of ancient bodies of water hold fossilized signs of life. The Perseverance team will look for similar signs and other evidence of astrobiology at Mars.
—

Liz Kruesi is the editor of Mercury magazine and Mercury Online. She has shared the stories of astronomy since 2005. Read more articles by Liz.