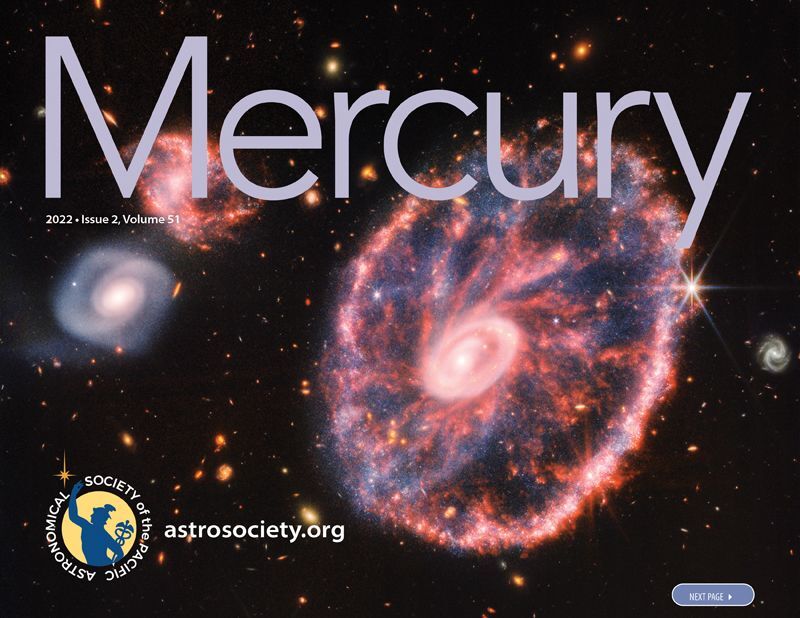 The newest 2022 issue (Vol. 51 No. 2) of Mercury magazine is now available for our members!
Featured in this issue:
The Event Horizon Telescope (EHT) collaboration is now two for two. The first image of Sagittarius A*, the supermassive black hole at the heart of our galaxy, was revealed to the public three years after their groundbreaking image of galaxy M87's black hole. The Earth-size telescope has now given astronomers two laboratories to study supermassive black holes, each with a different story to tell.
Last month, the James Webb Space Telescope (JWST) team showed the world the observatory's first views of the cosmos. These stunning images are a culmination of precision engineering, astronomical dreams, and complex software all working together to reveal a new cosmic view filled with discoveries. "I'm so thrilled and so relieved," said JWST's Senior Project Scientist John Mather following the release of these first images.
In June, a wildfire hit the Kitt Peak National Observatory, burning several structures to the ground. (Good news, though, is all the telescopes and their buildings are still standing.)
We also have our regular columnists describing the observational efforts related to the total lunar eclipse of 1638, encouraging having students evaluate their fellow group members, introducing a fascinating and enormous antimatter jet, and more. Download your copy of Mercury today to read all the latest space news and opinion!
—

Liz Kruesi is the editor of Mercury magazine and Mercury Online. She has shared the stories of astronomy since 2005. Read more articles by Liz.