Beth Wardell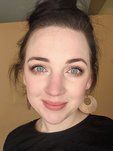 Beth Wardell
Publications Manager, ASP Conference Series
I started with the ASP Conference Series in the Fall of 2019 and have enjoyed every minute since. I had spent the previous five years working at a mental health facility helping run their blog and working in the office. While I loved working there and getting to see all the good we could do for people who truly need it, it was time to find something new. I was hoping to find something closer to the field I got my degree in and the experience I had and I was lucky to find the ASP Conference Series!
I grew up in Murray, Utah, and still live in Utah. I have family in the Pacific Northwest and have spent a significant amount of my time in the Portland, Oregon area, and part of my heart will always be there!
In 2014 I graduated with my BA in English from the University of Utah. Throughout my schooling, I got to be on the publishing staff of both a literary magazine and a school newspaper. I've always found the publishing process to be fascinating and enjoyable, and I'm excited to part of that process within an organization that values outreach and education.
I've been happily married since 2013, and when not working, I'm usually chasing around my two young children. You can also find me listening to the Beatles or my never-ending library of audio books while cooking (especially pies!), quilting, or attempting to make things grow in my garden.