A Public Talk with Jessica Harris
The Importance of Mentoring in STEM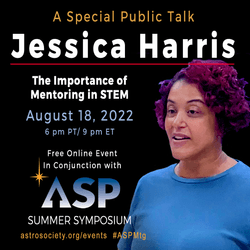 Please note: Due to technical challenges the video was not presented with ASL as originally planned for. Closed Captioning is provided on the video.
A special evening talk with Jessica Harris, physicist, informal educator, and science communicator. The webinar was presented via Live Streaming YouTube.
This event was included as part of the 2022 ASP Summer Symposium. 
---
Event Details
Why is mentorship important? Are you committed and dedicated to being the change you want to see in the STEM field? Let's come together to explore the recommendations from the groundbreaking American Institute in Physics Task Force to Elevate African American Representation in Undergraduate Physics & Astronomy (AIP TEAM-UP) Report. Harris has dedicated her professional career to supporting Black and Brown students in the STEM fields with a focus in Physics and Astronomy. She will be sharing with you her #AuntieJess Mentoring Program best practices. We will receive tangible methods to support students in STEM through mentorship.
---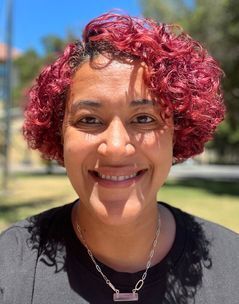 About Jessica Harris
Founder/CEO of Jessica A. Harris, LLC  I  WAM Academy Partner for Learner Success  I  AIP guest speaker for TEAM UP Webinar on Belonging
My name is Jessica A. Harris, I am a physicist, informal educator, science communicator, business owner. Students dearly call me Auntie Jess. I bring over a decade of experience in STEM education and public outreach. I have supported students to achieve educational outcomes at Space Telescope Science Institute as the Education Outreach Specialist and Director of the Space Astronomy Summer Program (SASP). In addition, I led public advocacy initiatives to drive change in programming efforts at the National Radio Astronomy Observatory (NRAO) as the STEAM Education Program Development Officer and site lead for the National Astronomy Consortium (NAC). Most recently, I was the Program Director for the Clark Scholars Program at the University of Virginia (UVA) in the Engineering School in Charlottesville.
I am the Founder and CEO of Jessica A. Harris, LLC, a consulting firm focused across three pillars:
Diversity, racial equity, and inclusion
Education and public outreach
Auntie Jess Mentoring
I am currently the Chair of the Human Rights Commission in the City of Charlottesville and serve as an outside expert on the National Astronomy Consortium (NAC) Advisory Council. I've obtained my B.S. in physics from Grambling State University and a M.A. in physics from Fisk University as part of the Fisk-Vanderbilt Bridge Program.