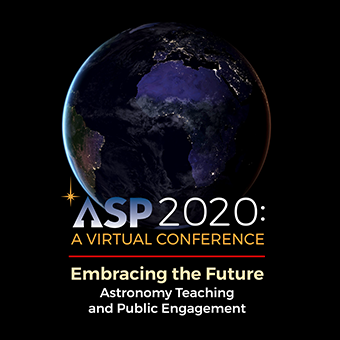 WE'RE GOING VIRTUAL!
Save the Date! December 3-5
Join us this Winter for ASP2020: Virtual Conference, Embracing the Future: Astronomy Teaching and Public Engagement.
Whether you're involved in teaching science students via distance learning, engaging the public with remote astronomy outreach, or doing hybrid approaches, anywhere and at any level, this 132nd Annual Meeting of the ASP- and its 1st online - can't be missed!  
---
Conference Information
Abstracts Now Being Accepted! Deadline is October 26th
Sign up for notifications! Registration with Early Bird/ASP Membership rates and more information coming soon.
About the Conference
Amidst a global pandemic raising challenges to education and public outreach, the emergence of genuine interest in social justice and inclusion, and global climate change, we invite K-16 educators and public engagement professionals in astronomy and related fields to share best practices, innovative ideas, lessons learned, research findings, and evaluation results to help us all move toward a better future.
Program strands for ASP2020 will include:
Online K-16 Teaching & Learning
Public Engagement in Informal Settings
Science Communication & Social Media
Diversity, Equity, Inclusion & Social Justice
Climate/Environmental Science & Dark Skies Preservation
Registration and more info coming soon!
Sign up for notifications!

---
#ASP2020Virtual  #ASPmtg