Christine Hirst Bernhardt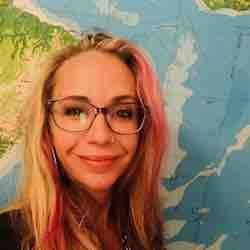 Christine Hirst Bernhardt is the chair of the US Astronomy Education Coordination Team through the International Astronomical Union where she extends her passion to expose the masses to the wonders of space. She is a veteran STEM educator in K12 and collegiate arenas holding dual master's degrees in science education and astronomy and was recently selected as an Albert Einstein Distinguished Educator Fellow and will work on National education policy issues in a congressional office during the 2021-2022 year.
Christine has nearly a decade of curriculum development and professional leadership experience and is actively involved in science education and outreach efforts at regional and National levels, such as serving on the National Aerospace Advisory board, as a Solar System Ambassador, Space Foundation Teacher Liaison. She flew on NASA's SOFIA mission and traveled to Chile as an educator ambassador and founded a space camp in Hong Kong.
Christine also leads professional development workshops and symposiums for science teachers throughout California and is passionate about supporting teachers.  She has worked for several of the nation's leading curricular companies as a subject matter expert including aligning and sequencing all curricula for the second largest district in the Nation as a contractor with NASA's Infiniscope project.
Christine is the sole author of two innovative, experiment-based astronomy courses published for the California Department of Education. She is currently a PhD student at UC Santa Barbara in STEM Education with an emphasis in Earth and Space Education. Her interests are the utilization of authentic learning experiences to foster social and environmental justice.