Ardis Herrold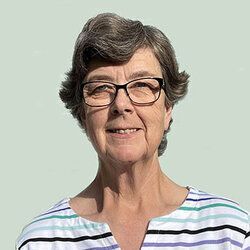 Ardis Herrold is the Education Specialist for Vera C. Rubin Observatory. She is responsible for designing and testing classroom investigations and teacher support materials that will make use of Rubin data once it becomes available. Now that some of the investigations are ready for use, Ardis leads teacher professional development efforts and oversees the Rubin Observatory Educators Community of Practice.
Prior to joining Rubin Observatory, Ardis taught physical, Earth, and space sciences at the high school and college level. She also worked in various planetariums, and managed night labs and observing nights for students and the general public. Ardis also was the advisor for the Radio Astronomy Team (the RATs), a student organization that she created and led for 28 years.
Ardis is a Past President of the National Earth Science Teachers Association and twice Past President of the Michigan Earth Science Teachers Association. A lifelong amateur astronomer, Ardis has a personal observatory near Tucson, AZ, where she images deep sky objects, comets and supernovae. Ardis has a Geology degree from the University of Michigan and still enjoys collecting rocks and minerals. She also loves hiking, biking, and playing drums and guitar.