Free Live Storytime: Moon Rope/Un lazo a la luna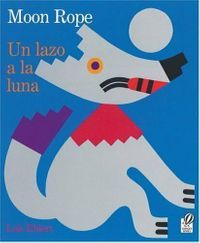 Join us for a live English & Spanish reading of the illustrated children's storybook, Moon Rope / Un lazo a la luna, by Lois Ehlert. Fox and Mole set off on an adventure to the Moon, with help from a rope of grass and their friends the birds.
After reading the book, we'll learn about Moon stories from around the world, then make our own stories about the Moon. Bring a print-out of our Moon Story Sheet, listed below (or blank paper if you can't print), and some markers or other drawing tools.