Free Live NSN Webinar Series: Preparing for Artemis: Understanding the Moon's most important resource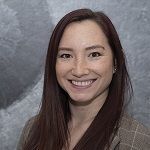 Join the NASA Night Sky Network on Thursday, May 20 at 6:00pm Pacific Time (9:00pm Eastern) to hear Dr. Casey Honniball bring us an update on the Artemis program and plans for creating a sustainable human presence on the Moon.
We are returning to the Moon. This time to stay. By 2024, through the Artemis program NASA will land the first woman and next man on the Moon, using innovative technologies to explore more of the lunar surface than ever before. A sustainable presence on the lunar surface will require in-depth knowledge of the Moon's available resources. Perhaps the most important resource the Moon can provide is water. In preparation for Artemis, we are studying the lunar water cycle to understand the source, transport and retention of water across the Moon. Join Dr. Casey Honniball as she discusses how we study water on the Moon from Earth-based observatories and how water may be used in future Artemis missions.
About Dr. Casey Honniball
Dr. Casey Honniball is a lunatic (lunar scientist) research fellow in the NASA Postdoctoral Program at NASA's Goddard Space Flight Center. Her current research focuses on characterizing water on the Moon and testing field portable instruments for use by astronauts during an extravehicular activity on planetary surfaces. She earned her Ph.D. in Earth and Planetary Science from the University of Hawaii in 2019. Recently Dr. Honniball and her team announced the direct detection of water molecules on a sunlit portion of the Moon using the air-borne telescope SOFIA. Since then, she has made numerous media and outreach appearances to talk about lunar water.
Viewing Options
The event will stream live on YouTube, but please note that questions asked over the NSN-members-only Zoom Q&A will be prioritized.
The recording will be uploaded both to the webinar's resource page and to the NSN YouTube page for folks that are unable to attend this evening's session.