Regular Registration through July 21: ASP2021 Summer Symposium: Astronomers for Planet Earth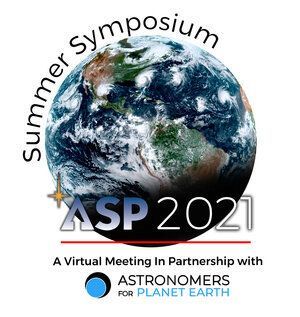 Regular Registration ends July 21st. Last day to sign up! There will be no on site registration available.
ASP2021 Summer Symposium
Astronomers for Planet Earth:
Addressing Climate Change from an Astronomical Perspective
A Special Virtual Event, July 23, 2021
Join us for a day-long interactive symposium exploring how to harness the astronomical perspective to inspire change on an individual, institutional, and societal level — as we fight to protect our planet. Through a series of talks, panels, and workshops, participants will engage with ASP's and Astronomers for Planet Earth's global communities to learn about causes, consequences, and solutions related to the climate crisis. You will come away with knowledge and tools to better communicate, educate, and advocate for solutions to climate change.
The day-long event kicks off the evening before (July 22) for a special public talk with Jill Tarter, co-founder of the SETI Institute. You won't want to miss the exclusive discussion post-talk for Symposium registrants only.
Hosted by the Astronomical Society of the Pacific (ASP) in partnership with Astronomers for Planet Earth.
Sign Up for our Events @the ASP email to receive updates.