Free Live Storytime: The Three Little Aliens and the Big Bad Robot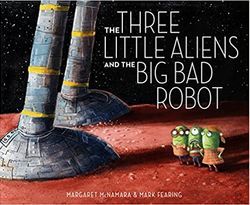 Join us for a live reading of the illustrated children's storybook, The Three Little Aliens and the Big Bad Robot, written by Margaret McNamara and illustrated by Mark Fearing. The three little aliens are happily settling into their new homes when the Big Bad Robot flies in to crack and smack and whack their houses down! This adaptation of the classic Three Little Pigs fairy tale provides a fun introduction to the solar system. Free registration required. Note that we will not record this reading due to publisher restrictions.
We'll also design and build our own space explorers! Bring along a small piece of cardboard (roughly 4"x4" but exact size and shape can vary!), tape and/or glues stick, scissors, and a collection of small odds and ends and doodads from around the house, for example: wooden chopsticks, drinking straws, bottle caps, cotton balls, party favors, bits of foil, paper clips.
This program is a part of the ASP's weekly Astronomy @ Home Storytime series.