Free & Open to the Public: An Evening Talk with Jessica Harris: The Importance of Mentoring in STEM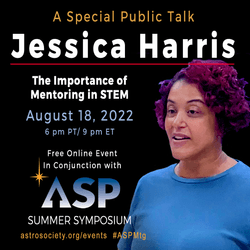 Special Public Talk with Jessica Harris: Thursday August 18
6:00pm PT/ 9:00pm ET
Join us for an evening with Guest Speaker, Jessica Harris, physicist, informal educator, and science communicator. This special free webinar event is part of the 2022 ASP Summer Symposium but will be free to the public via the Live Streaming YouTube Link below.
See the Details link below about the talk and a direct Link to the YouTube Event.
American Sign Language (ASL) interpretation live will be provided live as well as Closed Captioning (interpreted by Zoom) for the Special Public Talk.