ASP Awards Gala: *In person event* 5pm PT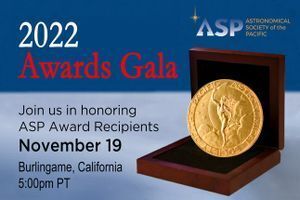 Each year the ASP honors and recognizes the ASP Awards Recipients for their leadership in and advancement of astronomy and space science. Join us as we present the prestigious Catherine Wolfe Bruce Gold Medal (awarded since 1898) for lifetime achievement in astronomy research. This year's recipient is Dr. Ellen Gould Zweibel, William L. Kraushaar Professor of Astronomy and Physics, University of Wisconsin- Madison, in recognition of her contributions to the understanding of astrophysical plasmas, especially those associated with the Sun, stars, galaxies, and galactic clusters.
The ceremony also features presentations of six additional awards, including the reverred Arthur B.C. Walker II Award, presented to Dr. Jedidah C. Isler, Principal Assistant Director for STEM Opportunity & Engagement at the White House Office of Science & Technology Policy whose research explores the physics of blazars – supermassive black holes at the centers of galaxies that create particle jets moving at nearly the speed of light.
Date: Saturday, November 19, 2022
Time: 5:00 Reception. 6:30 Banquet and Awards presentation.
Location: DoubleTree/Hilton - 835 Airport Blvd, Burlingame, CA