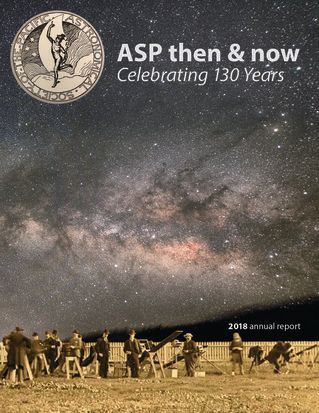 The Astronomical Society of the Pacific celebrates a milestone birthday this year.  Founded in San Francisco's on February 7, 1889, ASP has served the astronomy community for 130 years, helping professionals, amateurs, educators, and enthusiasts deepen their understanding of astronomy and improve their ability to share this knowledge with others.  
Please enjoy reading our newly published annual report, celebrating the ASP's anniversary. This year's report looks back at our illustrious roots, traces our evolution, and describes the education projects and initiatives that define where we are now.  I am proud and deeply honored to lead a society with such an amazing history and brilliant future.  I hope you enjoy this report and take pride in your own part in making the ASP what it is today.  
As part of our celebration, consider making a contribution to our Spring Appeal focused on the digital archiving of ASP's vast collection of education materials. Our goal is to raise $25,000 to make all our resources available online and continue our mission to promote public science literacy through the awe and wonder of astronomy.
Thank you for your continued support of the ASP. Keep looking up!