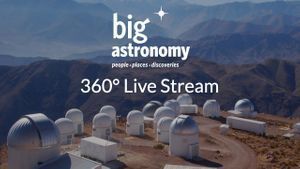 Big Astronomy: People, Places, Discoveries - Behind the scenes with the project team
Open-to-all, Live Streaming via YouTube and Zoom on December 3rd, 6pm PST/9pm EST/11pm Chile
Join us as we host a special LIVE Big Astronomy 360 Planetarium Show and Panel Discussion on opening night of ASP's 2020: A Virtual Conference.
The California Academy of Sciences has created a new planetarium show wrapped in an ecosystem of support, from live interviews to informal activities. Learn about how this NSF-funded project centers the people behind science in a new outreach environment. The 30-minute Planetarium show will be followed by a Panel Discussion. Meet the people who bring us the big discoveries in astronomy - visit the mountains of Chile where the world's largest telescopes are re-imagining our place in the universe.
Hosted by Vivian White (Astronomical Society of the Pacific)
Guest Panel:
Yasmin Catricheo - Associated Universities Inc.
Renae Kerrigan - Peoria Riverfront Museum
Shannon Schmoll - Abrams Planetarium at Michigan State University
Tim Spuck - Associated Universities Inc.
Ryan Wyatt - Morrison Planetarium, California Academy of Sciences
The ASP welcomes a pay-as-you-can donation for this LIVE EVENT. It is open to the public and invited guests of the ASP2020: A Virtual Conference.