Autumn 2008 - Volume 37, Number 4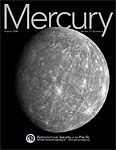 Table of Contents
[14] A Meeting of Giants, William Sheehan
It was likely only a brief, casual meeting between John Milton and Galileo Galilei, but Paradise Lost reveals that Milton was influenced by the encounter.
[19] A Russian Adventure, Tanya Phillips
The wonders of Moscow, St. Petersburg, and the Czar's waterways in between are revealed on a journey that ends with totality in Siberia.
[24] Seven Wonders, C. Renée James
You don't have to buy a telescope, learn your constellations, or travel to the boondocks to observe some of the most amazing things in the universe.
[29] Astronomy in the News
Liquid lakes on Titan, a 'cosmic ghost,' and the gravitational attraction of matter lying beyond the observable universe -- these are some of the discoveries that have recently made news in the astronomical community.
Departments
[4] Editorial, Paul Deans
Themes
[5] First Word, James G. Manning
An Astronomical Bucket List
[7] Astronomer's Notebook, Jennifer Birriel
Shaping Bipolar Planetary Nebula
[8] Planetary Perspectives, Daniel D. Durda
Rise of the Veiled Planet
[9] Armchair Astrophysics, Christopher Wanjek
Radio Dishes and Black Holes
[10] Echoes of the Past, Katherine Bracher
60 Years Ago: Encke's Comet
[11] Annals of Astronomy, Clifford J. Cunningham
Banned Books
[12] Education Matters, David Bruning
Fall: A Season of Renewal
[13] Societal Impact, Michael G. Gibbs
Partnerships
[35] Society Scope/ASP Supporters
[40] Sky Sights, Paul Deans
The Sky of November, December, and January
[43] Reflections, Ken Hewitt-White
Rethinking the Remote Dark-Sky Site
---
A Meeting of Giants
by William Sheehan
As we await the International Year of Astronomy, when the world will mark the 400th anniversary of Galileo's first observations with the telescope, we also celebrate the 400th anniversary (on December 8, 1608) of the birth of John Milton, still generally regarded as the greatest poet in the English language — after Shakespeare.
Born in Bread Street, Cheapside, not far from St. Paul's Cathedral in London, Milton proved to be a prodigy in languages, mastering Latin and Greek at St. Paul's School. Later, as a student at Christ's College, Cambridge, he added modern European languages and Hebrew. He had delicate features and a fair complexion, and was so far from being hirsute that he became known as the "Lady of Christ's." Several of the poems he wrote while still in his early twenties, including the Hymn on the Morning of Christ's Nativity, the sonnet How Soon Hath Time, and his symmetric set-pieces L'Allegro and Il Penseroso are still frequently anthologized.
A Russian Adventure
by Tanya Phillips
It was to be the journey of a lifetime. I was going to visit Russia and see my second total solar eclipse. This was my fourth trip with Melita Thorpe, who puts together astronomical tours through MWT Associates for the ASP.
On a pleasant summer day in San Francisco in early July, I boarded a morning flight to begin my trip to Moscow. I was a little nervous, because Melita had asked me to assist in finding members of our group at JFK airport in New York. I was to make sure everyone had the right tags on their luggage, and to help out in any way needed. It turned out to be easy, because Melita had already prepared everyone so thoroughly and many were already well-seasoned travelers.
Seven Wonders
by C. Renée James
As anyone deep in the heart of Texas can tell you, there is almost nothing to rival the sight of a clear night sky studded with thousands of white-hot stars and maybe a planet or two. But you don't have to buy a telescope, learn your constellations, or travel to the boondocks to observe some of the most amazing things in the universe. In fact, you can observe what are arguably the seven most awe-inspiring wonders of the universe this very night no matter where you live. All you need do is follow three simple steps.
Astronomy in the News
Cassini Pinpoints Source of Enceladus Jets
NASA / JPL / Space Science Institute
In a feat of interplanetary sharpshooting, NASA's Cassini spacecraft has pinpointed precisely where the icy jets erupt from the surface of Saturn's geologically active moon Enceladus.
New carefully targeted pictures reveal exquisite details in the prominent south polar "tiger stripe" fractures from which the jets emanate. The images show the fractures are about 300 meters (980 feet) deep, with V-shaped inner walls. The outer flanks of some of the fractures show extensive deposits of fine material. Finely fractured terrain littered with blocks of ice tens of meters in size and larger surround the fractures.
"This is the mother lode for us," said Carolyn Porco, Cassini imaging team leader at the Space Science Institute, Boulder, Colorado. "A place that may ultimately reveal just exactly what kind of environment — habitable or not — we have within this tortured little moon."
One highly anticipated result of this flyby was finding the location within the fractures from which the jets blast icy particles, water vapor, and trace organics into space. Scientists are now studying the nature and intensity of this process on Enceladus, and its effects on surrounding terrain. This information may answer the question of whether reservoirs of liquid water exist beneath the surface.
"There appears to have been extensive fallout of icy particles to the ground, along some of the fractures, even in areas that lie between two jet source locations, though any immediate effects of presently active jets are subtle," said Porco.
---
Accessing Mercury Magazine
Published since 1972, Mercury Magazine is now published four times a year for ASP Members and Institutional Subscribers. The Mercury Archives offer a table of contents for each of the digital issues going back to 2007. Members and Subscribers have access to the complete digital library of the full magazines.
ASP Members simply Log In to access all full digital issues through the MyASP Portal.
Not an ASP Member? Join today to enjoy a full year subscription, an archive of digital issues since 2007, as well as other benefits.
Institutional Subscribers must access the full library of digital issues through your Institution.
---
Mercury now has a voice beyond its Members as we launch Mercury Online, featuring our recognized columnists, current space news, and more in a new and up-to-date blog format. 
"We live in turbulent yet exciting times, so it is our hope that Mercury Online will showcase humanity's drive to explore by delivering high-quality  articles for members and nonmembers alike." — Ian O'Neill, Editor, Mercury magazine and Mercury Online