Spring 2020 - Volume 49, Number 2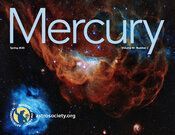 Table of Contents
[20] Space News
A rundown of some of the most exciting developments in space and time.
[25] Cosmic Views
Take a dip into a vast cosmic lagoon, and investigate a supermassive black hole's enormous jet
[27] Hubble's Handlers
The 30th anniversary of the Hubble Space Telescope celebrates both the instrument and the creative people who have kept it going.
[35] Searching Hubble's Archives for Hidden Gems
Because of its data collection and archival system, the Hubble Space Telescope has changed how — and who — can do science.
Departments:
[3] Perspectives, Liz Kruesi
Hello, Mercury Readers
[4] First Word, Linda Shore
Astronomy in the COVID Age
[6] Annals of Astronomy, Clifford J. Cunningham
Was There a Comet in 17 BCE?
[8] Astronomer's Notebook, Jennifer Birriel
More than Pretty Pictures: Adventures with Hubble
[11] Armchair Astrophysics, Christopher Wanjek
Just Your Friendly Neighborhood Black Hole
[13] A Little Learning, C. Renee James & Scott T. Miller
Light Curves and Coronavirus Curves
[18] Education Matters, Brian Kruse
Virtual Teaching: An Adaptation, Not a Replacement
[39] Reflections, Liz Kruesi
Storms on Jupiter
Hubble's Handlers (Feature)
By Steve Murray
As of April 24, the astonishing Hubble Space Telescope completed 30 years in space (about 164,500 orbits). Many astronomers who use Hubble today weren't even born when it was launched. Hubble's success is owed to three decades of hard work by scientists and engineers who push its capabilities and fix its problems. And as these people look back on Hubble's accomplishments at this anniversary, they're equally excited about what it will achieve in the future.
Searching Hubble's Archives for Hidden Gems (Feature)
By Sarah Wells
For nearly three decades, a treasure trove of data and discoveries about the cosmos has sat safely in a Maryland facility stored inside hundreds of tapes, laser-written optical disks, magnetic disks, and computer "jukeboxes." Spurred by requests from around the world, workers in the '90s and early '00s would rummage through dense aisles of these data-filled vessels day-in-and-day-out to collect, copy, and share the information collected by one of NASA's most ambitious projects: the Hubble Space Telescope. Recently, this massive database of every Hubble observation has been moved to the cloud, providing access to anyhow with an internet connection. Discoveries made using the Hubble archive have not only shaped our understanding of science in the past decades but how we do science as well.
Take a Dip into a Vast Cosmic Lagoon (Cosmic Views)
By Jason Major
Dive into the central region of the Lagoon Nebula — aka Messier 8 — an enormous interstellar cloud located within our own Milky Way Galaxy.
---
Accessing Mercury Magazine
Published since 1972, Mercury Magazine is now published four times a year for ASP Members and Institutional Subscribers. The Mercury Archives offer a table of contents for each of the digital issues going back to 2007. Members and Subscribers have access to the complete digital library of the full magazines.
ASP Members simply Log In to access all full digital issues through the MyASP Portal.
Not an ASP Member? Join today to enjoy a full year subscription, an archive of digital issues since 2007, as well as other benefits.
Institutional Subscribers must access the full library of digital issues through your Institution.
Mercury now has a voice beyond its Members as we launch Mercury Online, featuring our recognized columnists, current space news, and more in a new and up-to-date blog format. 
"We live in turbulent yet exciting times, so it is our hope that Mercury Online will showcase humanity's drive to explore by delivering high-quality  articles for members and nonmembers alike." — Ian O'Neill, former Editor, Mercury magazine and Mercury Online