Summer 2007 - Volume 36, Number 3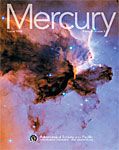 Table of Contents
[12] Now, Voyager, Erica Naone
Three decades since their launch, the twin Voyager spacecraft continue to be two of humanity's most important emissaries.
[18] The Touch of Astronomy, Noreen Grice
Most people take for granted the visual gratification that astronomy provides, but it is possible to turn astronomy into a tactile experience for the visually impaired.
[24] Astronomy Education Review -- Astronomy Education Joins the Mainstream, Andrew Fraknoi and Sidney Wolff
Five years ago a new journal for astronomy education was created, and now education researchers have an appropriate venue for presenting and sharing their ideas and practices.
[30] Hot Science in the Classroom: One High School Science Teacher's Dream Come True, Gretchen Stahlman
Putting teachers and scientists together to conduct research is good for both, but it is perhaps the students who benefit the most.
Departments
[4] Editorial, James C. White II
Finding Home
[5] Armchair Astrophysics, Christopher Wanjek
Black Holes Under Attack
[6] Planetary Perspectives, Daniel D. Durda
DEPTHX Takes the Ultimate Plunge
[7] Echoes of the Past, Katherine Bracher
The Promise of the 200-inch Telescope
[8] Astronomer's Notebook, Jennifer Birriel
Hyades Highlights
[9] Annals of Astronomy, Clifford J. Cunningham
Copernicus in Hades?
[10] Societal Impact , Suzy Gurton and Michael Gibbs
Direct to the Teachers
[11] Education Matters, David Bruning
Dualism and the Post-Modern Student
[38] Sky Events, Richard Talcott
[42] Society Scope
[46] Works of Note
---
Now, Voyager
by Erica Naone
In August 1989, as Voyager 2 approached the planet Neptune, I was not quite eight. I had a book I liked to take out sometimes that smelled of the high-gloss paper it needed for the brilliant color of its images. It was about a boy who traveled with a robot through the Solar System, learning about each planet as he went. My book could hardly have existed without Voyager 2 and its sister, Voyager 1 -- two real robot travelers.
Voyager 2 was twelve that year, racing near 65,000 kilometers an hour toward the blue planet for its last star-studded planetary encounter, "the last picture show" as scientists called it. For the world premiere, NASA's Jet Propulsion Laboratory in Pasadena was packed with A-list journalists and investigators eager to get a glimpse of the space probe's images of this distant world.
John Belcher, principal investigator for Voyager's plasma science experiment at the time, recalled the moment he found out when the last picture show would take place. "What did I do?" he said. "I sat down with a calendar and figured out when Sunday was and how long I would have to get my results into the Sunday edition of the New York Times."
Voyager's star quality may have still shined brightly back on Earth, but its rendezvous with Neptune was taking place five billion miles from the Sun, in the dim recesses of the Solar System where sunlight was faint and radio transmissions fainter. By then, the famous spacecraft had enough scientific discoveries under its belt to have caused several rounds of textbook revisions. But as Voyager headed for its glamorous final photo shoot at the edge of humanity's reach, its age was starting to show.
Media descriptions of the spacecraft at the time depicted it as heroic and struggling, as if it were Christopher Reeve at the end of his life rather than the Christopher Reeve as Superman. In a New York Times article headlined "Astronomers strain to hear Voyager's last, weak signals," John Noble Wilford described the "aging Voyager 2" as "groping in the dim vastness far from home, arthritic and partly deaf, feeble of voice and prone to memory lapses."
To hear him tell it, the probe was almost dead. That was what I thought at the time. When the exotic pictures stopped rolling in, it seemed there was nothing left for the craft to do but fly silently off into the pasture of deep outer space.
Now, as I look over Voyager's images of Neptune seventeen years later, sinking my eyes into the serenity of their pacific blue, I see the storms brewing underneath and the life Voyager still had inside it to capture such turmoil. Through Voyager's eyes, the outermost planet appeared aptly named: ocean-colored and dotted by white clouds resembling breakers at the beach. Three days after its closest approach to Neptune, Voyager sent an image of the planet and its moon Triton, each a pale gray sliver, looking like double new Moons fading to black. That was the moment Voyager really pulled away from shore, plunging into unknown space, soon to be blind but far from dead.
The Touch of Astronomy
by Noreen Grice
I should have known. When I was twelve years old, I entered the 7th-grade science fair at Lincoln Junior High School in Malden, Massachusetts, with a project about the planets. I cut apart Styrofoam balls and glued them to a piece of cardboard. After some expert coloring with my trusty box of Crayola crayons, I had created a 3-D model of the Solar System. I did not know at the time but this would be my first tactile astronomy illustration!
Several decades have passed, and I still have that Solar System model. It hangs in my home office, and I often gaze at it while I sit at my computer working on accessibility projects.
I always knew that I wanted to become an astronomer, but I did not know in what direction it would lead. As a child, one of my favorite places to visit was the planetarium at the Museum of Science in Boston: I was amazed to see so many stars, and the person who spoke in the dark always had interesting things to say.
During the summer of my senior year at Boston University, I began working part-time at the Museum of Science. One day, I was taking tickets for a planetarium show and noticed a group of people who were blind, in line for the next show. I had guessed they were blind because they carried red and white canes and shifted the canes side to side as they moved forward in line. I nervously asked the manager on duty what I should do. He said that I should "help them to their seats. That's all you have to do."
Once the audience was seated, I welcomed everyone to the show. Then I pushed a button on the computer and the show began automatically. At the end of the program, I asked these visitors how they liked the show. They replied bluntly, "it stunk" and continued on their way.
I'll never forget that empty feeling of being told that an experience you love could be so disappointing to someone else. Why was the planetarium show so bad?
The next day I visited the Perkins School for the Blind in Watertown, Massachusetts. I wandered through the campus of brick buildings, pine trees, and green lawns and found the Library. I asked the librarian if they had any astronomy books; she directed me to a tall stack of Isaac Asimov books. Many of the books had spines wider than eight centimeters. They were quite hefty!
I pulled some of those books down and began flipping through them. The pages were full of Braille, but something was missing. "Do braille books have pictures?" I asked. The librarian replied that not many have pictures because the illustrations are expensive and labor intensive. And then it hit me. The planetarium was a poor experience because the visual images were not accessible.
I suddenly felt a connection with these people. Although I am not visually impaired, I spent many years growing up in a public housing project outside of Boston. There were times when fellow students and their parents would tell me that I was not the same as other kids because I lived in the projects...that I was not welcome in some places because I was a "project kid." I never really understood why people said that to me because it made me feel bad and did not really describe the person I was inside.
When I stood in the Perkins Library and realized that visually impaired students face barriers as I had years before, I knew I was in a position to make a positive change for them. I thought, "I'm going to do something about this" and began my quest to make astronomy accessible to people who are blind and visually impaired.
Astronomy Education Review -- Astronomy Education Joins the Mainstream
by Andrew Fraknoi and Sidney Wolff
What makes an area of human endeavor a profession, instead of merely a job? For generations, groups involved in the same kind of work have wrestled with this problem.
Lawyers, to take an example, have done especially well in finding ways to mark their activities as a profession. To become lawyer, you have to go to a specialized "law school," take a bar exam (the failing of which effectively bars you from being part of the profession), join the bar association, keep up with the field, swear to a code of conduct, etc. Lawyers have their own publications, use specialized language that is often unclear to the layperson, and hold conferences and workshops that only lawyers can attend.
For several decades, a number of us have been asking whether astronomy education is a profession. (See "Steps and Missteps Toward an Emerging Profession" in the September/October 2005 issue of Mercury, for example.) In some ways, we still have a long way to go in making the training of astronomy educators more than just an afterthought in the training of astronomy researchers. But in one way, we have made significant progress. There is now a journal/magazine that is devoted to the professional work of astronomy education.
Hot Science in the Classroom: One High School Science Teacher's Dream Come True
by Gretchen Stahlman
In the cold expanse of space, the Spitzer Space Telescope searches for heat radiated from distant stellar objects. These thermal emissions reveal matter that would otherwise be hidden, such as newly formed stars nested inside dense, dusty nebulae. The orbiting telescope is already halfway through its short five-year lifespan, and research time on "Spitzer" is precious to astronomers on Earth.
"You can't put an amount of money on [the opportunity to work with Spitzer]," says Doris Daou, Deputy Manager of Education and Public Outreach at the Infrared Processing and Analysis Center. "The opportunity is rare."
Daou, along with colleague and astronomer Stephen Pompea of the National Optical Astronomy Observatory, planned and initiated the "NASA Spitzer Space Telescope Research Program for Students and Teachers." Twelve individuals out of thirty-seven outstanding applicants were chosen to participate in the 2005 program, which offered Spitzer research time to high school science teachers.
Spitzer Science Center Director Thomas Soifer says, "We wanted to bring the Spitzer Space Telescope mission to the classroom, and give this great opportunity to teachers and students from all over the country." Soifer donated three hours of his personal discretionary research time to the Observing Program for Students and Teachers, giving each group of four teachers access to a portion of this precious telescope time. Spitzer's science teachers are using this technology to bring real scientific research into the classroom.
"We are preparing the next generation of scientists by giving teachers the tools to work with science," program initiator Daou stated in an enthusiastic French-Canadian accent as I spoke with her on the phone. "We want to engage not only teachers, but students as well."
---
Accessing Mercury Magazine
Published since 1972, Mercury Magazine is now published four times a year for ASP Members and Institutional Subscribers. The Mercury Archives offer a table of contents for each of the digital issues going back to 2007. Members and Subscribers have access to the complete digital library of the full magazines.
ASP Members simply Log In to access all full digital issues through the MyASP Portal.
Not an ASP Member? Join today to enjoy a full year subscription, an archive of digital issues since 2007, as well as other benefits.
Institutional Subscribers must access the full library of digital issues through your Institution.
---
Mercury now has a voice beyond its Members as we launch Mercury Online, featuring our recognized columnists, current space news, and more in a new and up-to-date blog format. 
"We live in turbulent yet exciting times, so it is our hope that Mercury Online will showcase humanity's drive to explore by delivering high-quality  articles for members and nonmembers alike." — Ian O'Neill, Editor, Mercury magazine and Mercury Online