Winter 2007 - Volume 36, Number 1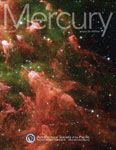 Table of Contents
[12] The Deep Plunge Sunward, Bruce Dorminey
Mercury is relatively close to Earth, yet this tiny world's location near Sol makes direct study challenging. Beginning next year, a MESSENGER from Earth should begin to answer some of our questions about the innermost planet.
[20] Searching for Earth's History Among Earth-like Worlds, Lisa Kaltenegger
Understanding our planet's developmental history provides astronomers with a novel means to study terrestrial-type exoplanets.
[26] Pluto By Any Definition…
Here, two noted astronomers share their opinions on the issue.
Who Defines a Planet? by David A. Weintraub and The "Pluto" Question by Brian Marsden
[31] The Future for the American Astronomical Society, Kevin Marvel
As the nation's membership organization for professional astronomers, the American Astronomical Society has grown and developed over the years into a body that protects and advances the science while looking outward toward education, new ideas, and new constituents.
Departments
[4] Editorial, James C. White II
Grrrrr.
[5] Armchair Astrophysics, Christopher Wanjek
To Boldly Go…
[6] Planetary Perspectives, Daniel D. Durda
Planetary Science on the Radar Screen
[7] Echoes of the Past, Katherine Bracher
Beyond the Milky Way
[8] Astronomer's Notebook, Jennifer Birriel
A Wind from the Galactic Center?
[9] Annals of Astronomy, Clifford J. Cunningham
Galileo vs. Kepler: Two Minds on Tides
[10] Societal Impact , Connie Walker
Go for the Gold (Star) with Family ASTRO
[37] Works of Note
[38] Sky Events, Richard Talcott
[42] Society Scope
[46] Last Word
Mercury Turns Thirty-Five Years Old
---
The Deep Plunge Sunward
by Bruce Dorminey
As elusive as Venus is forgotten, enigmatic Mercury only seems to capture our imaginations when making one of its rare solar transits (see "Mercury's Time to 'Shine,'" September/October 2006, p. 12). Its very presence in an eccentric orbit deep in the gravity well of our own G-dwarf star only underscores Earth's privileged position in the heart of the habitable zone.
Mercury itself is a puzzle, in large part, because its exploration has arguably been in stasis since NASA's Mariner 10 spacecraft made multiple flybys more than thirty years ago. As a result, the tiny planet still holds the dubious distinction of being the least explored planet of the inner Solar System.
Given its lethal proximity to the Sun's particle flux and extreme radiation, this will take some time to undo. But with NASA's $420 million MESSENGER orbital mission en route, and development of the European Space Agency's €650 million ($850 million) BepiColombo mission in cooperation with Japan, this iron-rich runt of a planet is finally going to get its due.
Searching for Earth's History Among Earth-like Worlds
by Lisa Kaltenegger
It is only a matter of time before astronomers find an Earth-sized planet orbiting a distant star. We will naturally ask whether the planet is habitable or bears life. But will we be able to tell if there are bacteria, roaming dinosaurs, or even more advanced life?
While the first images of any putative exoplanet will be only visual smudges a single pixel in size, even a low-resolution spectral picture of the planet will be able to tell us a great deal. For examples: from spectra we should be able to infer whether the world, like Earth four billions years ago, was enveloped in a steamy, oxygenless atmosphere and covered completely by an ocean; or, in a Jurrasic-park-like epoch, a distant planet's atmosphere consists of about three-fourths nitrogen and one-fourth oxygen, with a small percentage of other gases like carbon dioxide and methane.
In the past twelve years, scientists have discovered more than two hundred large planets orbiting other stars, yet finding Earth-like planets is a fascinating and substantially more technologically demanding endeavor. And, once we finally do find them, what are clues to life's presence on them? Indeed, how do we need to design our instruments so we don't miss life's spectral signature?
Pluto By Any Definition…
For more than seven decades, remote Pluto was counted among the planetary canon. In August 2006, however, this world was effectively reclassified with the adoption of a new definition of "planet." Opinion among astronomers for and against this new definition is now regularly slung about, and there is anticipation of a coming showdown -- between, on the one side, those who favor retaining Pluto's planetary status and revisiting the new definition of "planet," and, on the other side, those who advocate for the new definition in the midst of a burgeoning number of recently discovered planetary bodies
Here, two noted astronomers share their opinions on the issue.
Who Defines a Planet? by David A. Weintraub and The "Pluto" Question by Brian Marsden.
The Future for the American Astronomical Society
By Kevin Marvel
The American Astronomical Society was founded in 1899, and, within its first year, 114 astronomers were active members. Since then, the Society has grown to more than 7,000 members and grown along the way from a completely volunteer-managed organization to one with a full-time Executive Officer and professional staff.
As I transition from Deputy Executive Officer, mainly responsible for public policy issues, to Executive Officer, responsible for all aspects of the Society, I am happy to accept an invitation from my long-time colleague and Mercury Editor Jay White to muse a bit on where the Society stands and where we might be going. Indeed, this article represents a humble attempt to summarize all the great accomplishments my predecessors, especially Peter Boyce and Bob Milkey, have accomplished and some thoughts about the Society's future and its role in the field of astronomy.
---
Accessing Mercury Magazine
Published since 1972, Mercury Magazine is now published four times a year for ASP Members and Institutional Subscribers. The Mercury Archives offer a table of contents for each of the digital issues going back to 2007. Members and Subscribers have access to the complete digital library of the full magazines.
ASP Members simply Log In to access all full digital issues through the MyASP Portal.
Not an ASP Member? Join today to enjoy a full year subscription, an archive of digital issues since 2007, as well as other benefits.
Institutional Subscribers must access the full library of digital issues through your Institution.
---
Mercury now has a voice beyond its Members as we launch Mercury Online, featuring our recognized columnists, current space news, and more in a new and up-to-date blog format. 
"We live in turbulent yet exciting times, so it is our hope that Mercury Online will showcase humanity's drive to explore by delivering high-quality  articles for members and nonmembers alike." — Ian O'Neill, Editor, Mercury magazine and Mercury Online