Save the Dates!
ASP2021 ASP Virtual Annual Meeting is coming November 18-20, 2021.
Sign up for Events @the ASP to be notified when more information and registration is available.

---
About the ASP Annual Meeting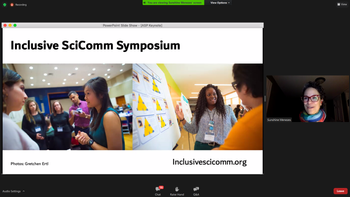 Due to COVID restrictions, the traditional ASP Annual Meeting—a professional conference for scientists, educators, and communicators working in astronomy and related fields—shifted to an online platform and became ASP2020: A Virtual Conference.
The event, entitled "Engaging the Future: Astronomy Teaching and Public Engagement," took place online December 3–5, 2020, attracting 360 registrants from around the world. During the conference, more than 70 sessions were presented, all hosted online and recorded for later access.
Feedback from the meeting was positive and encouraging: Our online format afforded the opportunity for many more participants than usual to attend, with no travel costs incurred. We're excited to do this style of conference more often, reaching a broader worldwide astronomy community and expanding the ASP's impact worldwide.