Free Live NSN Webinar Series: When Clouds Take Over the Sky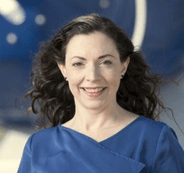 Join the NASA Night Sky Network on Monday, January 10 at 6:00pm Pacific Time (9:00pm Eastern) to hear Dr. Jessica Taylor from NASA's Langley Research Center share with us how you can provide data to NASA even on cloudy days.
What to do when clouds fill the view of your sky? Turn this into a citizen science opportunity! Join the GLOBE Cloud Challenge: Clouds in a Changing Climate from January 15-February 15, 2022. Your observations documenting what's in the sky are helpful to scientists. Participants are encouraged to download the GLOBE Observer app to start contributing to this volunteer science community.
About Dr. Jessica Taylor
Jessica Taylor grew up in Florida where her love of thunderstorms led her to pursue a career in atmospheric science. Jessica's participation in GLOBE began in 2001 as a student at Florida State University. Now as a Research Scientist at NASA, Jessica is the Principal Investigator for GLOBE Clouds. In 2021, more than 220k observations of clouds and sky conditions were documented and submitted to GLOBE's worldwide database.
Further Information and Additional Viewing Options
The event will also be streaming live on YouTube, but please note that questions asked over the NSN-members-only Zoom Q&A will be prioritized.
Further Information and Additional Viewing Options see below.