Free Live NSN Webinar Series: Active Galaxies: Monsters of the Deep (Space) with Dr. Travis Fischer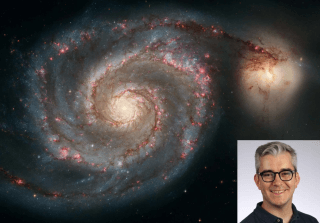 Join the NASA Night Sky Network on Thursday, November 30 at 6:00 PM Pacific Time (9:00 PM Eastern) along with Dr. Travis Fischer from Space Science Telescope Institute, where we will explore the nature of active galaxies, including their energetic processes and the role they play in shaping the universe we see today.
Active galaxies are some of the most fascinating objects in the universe. They emit copious amounts of energy, often far exceeding the energy output of an entire galaxy of stars. But what makes them so active? Hear about some of the latest research in the field, including the use of telescopes and other observational tools to study these enigmatic objects. Join us on this journey to the heart of the most powerful objects in the cosmos.
About Dr. Travis Fischer:
Joining STScI in 2020 as an ESA/AURA Astronomer, Dr. Travis Fischer provides support for the Cosmic Origins Spectrograph (COS) aboard the Hubble Space Telescope and acts as the Deputy Lead for Data Products on the Hubble UV Legacy Library of Young Stars as Essential Standards (ULLYSES) team. Travis previously served as a Research Faculty through both George Mason University at the United States Naval Observatory and The Catholic University of America at NASA's Goddard Space Flight Center. Before this he was a James Webb Space Telescope NASA Postdoctoral Program Fellow at GSFC.
He began his career as a research assistant and postdoctoral researcher in Georgia State University's Department of Physics and Astronomy. Travis also continues to pursue an active research career studying Active Galactic Nuclei (AGN), their influence on the host galaxies they reside in, and analyzing IFU spectroscopy, which includes upcoming James Webb Space Telescope Early Release Science and Guest Observing programs. Previous studies of note include the kinematics of outflowing, ionized gas in nearby AGN and how it relates to other phases of gas observed in the infrared, X-ray, and radio. He is also interested in creating and providing tools for spectroscopic analysis of emission lines. His research has appeared in the Astrophysical Journal and has been presented at various scientific conferences.
The event will be streaming live on YouTube, but please note that questions asked over the NSN-members-only Zoom Q&A will be prioritized.