2022 ASP Summer Symposium: Exploring Science Communication and Public Engagement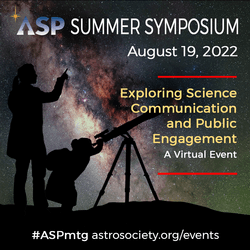 Registration Closes August 17, 8:59pm PT
Join us this summer and participate in our online, interactive Symposium to include live talks, panels, workshops, and discussions.
Invited communication experts and leaders will share best practices for improving public understanding and appreciation for science and the wonders of the cosmos.
The target audiences for this Summer Symposium include:
Science Communicators and Informal Educators
Scientists and Science Educators
Museum and Planetarium Educators
Science Writers and Journalists
Social Media and Traditional Media Experts
Park Rangers and Youth Leaders
and more, from around the world!